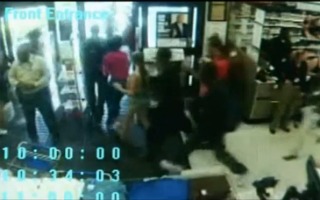 A group of North Miami Beach Senior High School students participating in a walk-out demonstration in support of Trayvon Martin were caught ransacking a local Walgreens store. Surveillance footage shows the teens (somewhere between 80 and 100, according to police) running through the store and ransacking shelves, causing an estimated $150 in damages. Local reports say about 400 to 500 students at the school participated in the protest last Friday, with most remaining peaceful.
The surveillance footage also shows the school's assistant principal attempting to stop students from entering the store.
RELATED: Million Hoodie March For Trayvon Martin Turns On CBS Reporter After He 'Lies' About Numbers
North Miami interim police chief Larry Gomer has stated that the department understands that "this is a very emotional issue:"
Our police department fully understands that our country was founded on free speech and we agree that all people have a right to peacefully march in protest. We will even help with law enforcement duties to facilitate such orderly demonstrations. However, criminal acts will not be tolerated. This instance crossed that line, and will not be tolerated now or in the future. We all understand that this is a very emotional issue but when our businesses or our community are negatively impacted by anyone breaking a law, we will enforce those laws without question.
Fortunately for the police, in addition to the surveillance footage, they also have several student IDs dropped by the teenagers during their raid.
Have a look at the footage, below:
h/t Local10.com, CBS Miami, NBC Miami
Have a tip we should know? tips@mediaite.com