Trayvon's Brother On CNN: Report Of What Happened 'Doesn't Sound Like Him At All'
Trayvon's Brother: Report Of What Happened 'Doesn't Sound Like Him At All'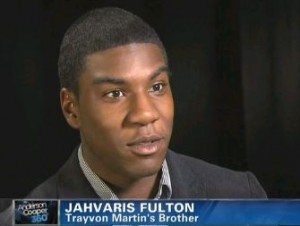 We've heard from Trayvon Martin's parents over the past few weeks, but on CNN tonight, Anderson Cooper turned the spotlight to Jahvaris Fulton, Trayvon's older brother who has not spoken out as much on his brother's death at the hands of George Zimmerman. Fulton, currently a college student, said his brother had very high academic aspirations, and loved the idea of going to college ater spending spring break with his brother and touring the campus.
RELATED: Bill O'Reilly Asks Trayvon Martin's Mother: 'Was I Wrong To' Ask Al Sharpton To Apologize?
He talked about the first time his brother ever rode a horse, when they were celebrating their mother's birthday eight days before Martin was fatally shot. On the night in question, Fulton said he noticed several missed calls on his phone from his mother. He recounted the conversation they had when his mother told him the horrible news, saying "I didn't believe it, and I didn't understand it either."
However, one of the main reasons Fulton decided to start speaking out about it was because the picture people were making of his brother did not sound anything like Trayvon. He said that everything sounded like it was from "Zimmerman's perspective," and not his brother's. The account that Martin attacked Zimmerman "doesn't sound like him at all," according to Fulton. He said that, listening to the tapes, it didn't sound like his brother was being violent at all.
Fulton said that "there shouldn't be any more Trayvons" in the future and that no one should be able to kill someone and get away with it. He asked others to remember his brother as "a happy teenager."
Watch the segment below, courtesy of CNN:
Have a tip we should know? tips@mediaite.com
Josh Feldman - Senior Editor