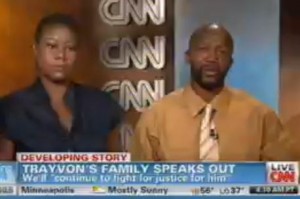 Sybrina Fulton and Tracy Martin, parents of slain teenager Trayvon Martin, continued their tireless advocacy to achieve a measure of justice for their son. In an emotional interview with Starting Point's Soledad O'Brien, they refocused attention on the search for justice, not vengeance, but Ms. Fulton made it clear she has an outcome in mind, telling O'Brien "I really believe that this guy chased my son, and my son was protecting himself. My son was exercising his stand your ground rule."
O'Brien asked Tracy Martin for his reaction to reports that the senior investigator in Trayvon's case had wanted to charge Zimmerman with manslaughter, but was overruled by the state's attorney. "It's obvious that the investigator who's experienced in what he does saw fit that an arrest needed to be made," Martin said, "and to hear that the state attorney's office said that there was not enough evidence is just heart-wrenching. Because that lets me know from the outset that something wasn't right about the investigation."
Martin also spoke about the questions he wants answered, which are, again, less about George Zimmerman's guilt or innocence, and more about how little was done to determine it. "Why was our son gunned down? Why wasn't this individual arrested? Why was evidence not processed? Why wasn't the right thing done from the beginning in this case?"
Attorney Benjamin Crump also reiterated the fact that the family is only asking for Trayvon to get his day in court. "We're not asking for an eye for an eye," he said. "We want him arrested, and equal justice under the law. We don't want no more, no less."
But the most emotional part of the interview, one which also symbolizes the tragic dynamics of this case, was when O'Brien asked Ms. Fulton if she had seen evidence of a struggle on Trayvon's body. "I couldn't absolutely tell that, because it was difficult for me to see my son's dead body. When I did see him, it was after he was fixed up, so I did not see him prior to him being handled by the funeral home."
She added, "I have no confidence that my son chased this guy. I really believe that this guy chased my son, and my son was protecting himself. My son was exercising his stand your ground rule."
One of the trickiest parts of the Trayvon Martin story is balancing the desire to see justice done for the slain boy with shooter George Zimmerman's right to a presumption of innocence. Because of the decision not to arrest Zimmerman, or to sufficiently investigate the shooting, the focus of much of the early coverage has rightly been on establishing that there was probable cause for an arrest.
Zimmerman is still due that presumption of innocence, but in order for the police to have let George Zimmerman go, they had to essentially find Trayvon Martin guilty of attempted murder. This case is about preserving both of their rights to a presumption of innocence, and the only way to do that is in a court of law. Some people have gotten it twisted, and see the public outrage as a rush to judgment against George Zimmerman. It isn't. It is an effort to undo the rush to judgment that was made by the Sanford Police and, as it turns out, the state's attorney.
That conflict is at the heart of the Trayvon Martin case. He can't speak for himself now, and while his parents and their supporters have the eyes and ears of the public, they continue to be disadvantaged by the central injustice of this case. George Zimmerman is able to speak for himself, but so far hasn't had to; in addition to having his attorney and friends pushing his (contradictory) version of events, he's also got the Sanford Police Dept. flacking for him by leaking self-serving reports and smear attempts against Trayvon Martin.
I keep hearing people like Will Cain talk about waiting for all the facts to emerge, but that's the whole point; the people in charge of gathering and marshaling those facts have demonstrated their commitment to protecting their own rush to judgment against Trayvon Martin. Whatever you think of the facts that have emerged so far, any reasonable person has to wonder why the police decided to leak details of Trayvon Martin's suspension from school to a newspaper reporter. This is what the outrage is about: getting that finger off the scale, and getting justice for Trayvon Martin and George Zimmerman.
Here's the clip, from CNN's Starting Point:
Have a tip we should know? tips@mediaite.com