Trayvon Martin's Parents Speak Out On All Three Major Networks, Call On Obama To 'Investigate' Zimmerman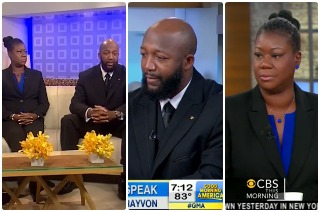 On Thursday, the parents of slain Florida teen Trayvon Martin, Tracy Martin and Sabrina Fulton, as well as family attorney Ben Crump, sat down for interviews with CBS, ABC and NBC. Speaking out for the first time since the verdict which found George Zimmerman not guilty of murdering their son, Travyon Martin's parents expressed their shock in interviews with CBS This Morning, ABC's Good Morning America, and NBC's Today.

"I want America to know that Trayvon was a fun-loving child," Tracy Martin told CBS's Charlie Rose. "He was our child. We miss him dearly."
"I thought surely that he would be found guilty of second degree murder — manslaughter at the least," Fulton added. "I just knew that they would see that this was a teenager just trying to get home. This was no burglar. This was somebody — somebody's son that was trying to get home."
"What would you like President [Barack] Obama to do?" Norah O'Donnell asked. Fulton replied that she would hope the federal government would "at least investigate" what happened the night her son died.
"I really didn't believe that he was not guilty," Fulton told ABC's George Stephanopoulos.
"As parents, the understanding how they reached the verdict — I'll never grasp that concept," Martin added. "We didn't think it was fair."
Fulton said that it was her impression that her son was afraid of Zimmerman the night he killed him because Trayvon had called him "creepy."
Crump told Stephanopoulos that the family is calling on the Justice Department to pursue civil rights charges against Zimmerman. "We need to know what to tell our children," he said.
Tracy Martin was asked about the fact that Zimmerman's parents have expressed their condolences to the Martin family. He said struggled with his reaction and noted that there was "no winner" in this situation, but he was not entirely sure the gesture was sincere.
Trayvon Martin's parents sat down for their longest interview with the hosts of NBC's Today. "I think that if Tryavon had been white, this wouldn't have never happened," Martin told NBC's Matt Lauer.
Crump added that the prosecution in the case did not adequately impress on the jury what might have happened "if the roles were reversed." Crump insisted, however, that they were happy the state brought charges against Zimmerman in the first place.
Asked about anti-Zimmerman protests, some of which have grown violent, Fulton insisted that protests remain peaceful.
Asked finally whether it was right for Zimmerman to be found not guilty but have to live in hiding, Fulton said she did not know about that. "We sit in the victim's seat," she said. "Is this the intent for the justice system to have for victims? I mean, it's sending a terrible message to little black and brown boys that you can't walk fast, you can't walk slow."
The family repeated that they hope the federal government considers new charges against Zimmerman. "There could have been something more done," Martin concluded.
> >Follow Noah Rothman (@NoahCRothman) on Twitter
Have a tip we should know? [email protected]