Trayvon Martin's Parents Tell Piers Morgan: 'Concerns Us A Great Deal' That Zimmerman Is Unaccounted For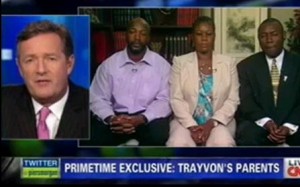 On Tuesday night, Trayvon Martin's parents, Sybrina Fulton and Tracy Martin, spoke to Piers Morgan, joined by the Martins' attorney Benjamin Crump. Martin said Zimmerman being missing in action doesn't "sit well with us" — because if they can't find him, how can they hold him accountable?
RELATED: George Zimmerman's Lawyers Withdraw As His Counsel After Losing Contact With Him
Martin said, "He definitely needs to be contained," but added that news of special prosecutor Angela Corey's imminent announcement "takes a little pressure off." Citing there's "definitely a lot of tension building up," he said the family is hoping "the correct decision" is made in the next 72 hours (the period within which the announcement is expected).
Crump told Morgan, "We have a lot of anxiety over the simple fact that nobody knows where the killer of Trayvon Martin is. That he is unaccounted for." If "the charges come forth, like we believe and think rightfully should come from the special prosecutor, then the question is, can they get him to be hold him accountable?"
Morgan then went on to Zimmerman's new website. He asked Fulton, "How do you feel, as Trayvon Martin's mother, seeing the man that killed your son thanking people over a website for the overwhelming support that he's receiving?"
"I really haven't viewed the website," she replied. Wanting to stay focused on justice for her son, she said, "I don't want things like that to distract me."
RELATED: Mark Geragos Blasts Zimmerman Lawyers' Presser On CNN: I Thought I Was Watching SNL Skit
Toward the end of the segment, Martin said his son "wasn't raised to be an aggressor." He added, "I'm just absolutely positively sure that Trayvon didn't initiate contact.
Take a look, via CNN:
Have a tip we should know? tips@mediaite.com