Trayvon Martin's Stepmother Speaks Out: I Don't Think Zimmerman 'Picked Him Out Because He Was Black'
Trayvon's Stepmother Speaks Out: I Don't Think Zimmerman 'Picked Him Out Because He Was Black'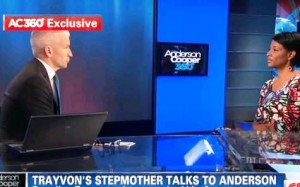 Alicia Stanley, Trayvon Martin's stepmother, sat down last night for an emotional interview with Anderson Cooper. Stanley opened up about the 14 years she spent raising Martin with his father and how it's been hard for her to watch George Zimmerman's trial and hear all the things people have been saying about the night that her son died. She told Cooper that while she is convinced of Zimmerman's guilt, she does not personally believe that he picked her son out because he was black.
RELATED: The Five Hosts Put Media 'On Trial' For Injecting Race Into Zimmerman Case: 'Should Pay For Crap They Put Out'
It was a very emotional interview, and when Cooper asked Stanley if she was watching the trial, she teared up as she answered, "It's hard for me to see and hear the things that led to his death." She told Cooper about her relationship with Martin's father and how he stopped speaking to her at one point.
Cooper brought up the testimony of Rachel Jeantel, who said Martin referred to Zimmerman as a "creepy-ass cracker." Stanley said, "Kids gonna be kids," adding that she never heard her son use words like that.
In the second part of the interview, Cooper asked Stanley if she thinks race was a factor in how Zimmerman singled out Martin. She said she did not believe that was the case.
"No, I really don't think it was Zimmerman don't like black people, or he picked him out because he was black. Did he profile him with the hoodie and stuff like that as this thug, whatever, walking, in Zimmerman's mind? Yes, but to say that he targeted him because he was black? No, I don't–I don't think so."
She became emotional again when talking about losing a child she raised for most of his life, and described how painful it was to not be able to sit in the front row at Martin's funeral. She told Cooper that it would be "heartbreaking" and "unbelievable" if ZImmerman is found not guilty.
Watch part 1 video below, courtesy of CNN:
And part 2:
—–
Follow Josh Feldman on Twitter: @feldmaniac
Have a tip we should know? tips@mediaite.com
Josh Feldman - Senior Editor