Treasury Secretary On IRS Scandal: 'I've Always Thought Of Auditors As Your Partners'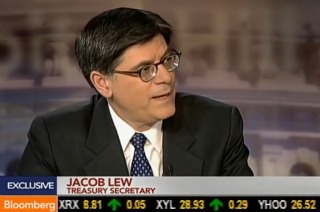 This quote is certain to quell the outcry over the Internal Revenue Service flagging conservative groups for added scrutiny when applying for tax-exempt status. Treasury Sec. Jack Lew told a Bloomberg TV anchor on Friday that auditors are actually their helpful "partners" who are there to help you fix problems. Problems like you or your group's inconvenient political values.

Weighing in on the scandal surrounding the admission by IRS officials that they applied undue scrutiny to applications for tax-exemption status by conservative group, Lew said that he learned of the scandal in mid-March, when he came on as the permanent replacement for former Treasury Sec. Timothy Geithner.
"I learned the substance of this report last Friday when it became a matter of public knowledge," Lew said of the Inspector General's report on IRS abuses.
Lew said that he had a conversation with the Inspector General in mid-March. "The topic of a project on the 501(c)(3) issue was one of the things he briefed me was ongoing," Lew added. "I didn't know any of the details of it until last Friday."
RELATED: NBC's Luke Russert: IRS Official 'Winging This' In Testimony, Saying 'Hey, I'm The Fall Guy For This'
When asked if his predecessor or any other Treasury officials knew of the substance of the IG's report, Lew said that he was not aware. "I have to assume that, as I was aware of the fact of the matter being the subject of review, that's very different from the substance of the findings," Lew noted.
"Typically, you don't know a lot about an investigation until it's nearing the end," Lew asserted. He said that the IRS and Treasury responded appropriately to the scandal.
"The moment the IG report was public, we took immediate action," he said noting that, within 24-hours, he asked for the acting IRS commissioner's resignation and appointed a new acting commissioner.
"I found this report very troubling," Lew said. "I met with the IG and he raised this issue to me for the first time. What I said to him was, 'I have always thought of auditors as your partners. People to point out where there are problems, and help you fix them.'
Watch the clip below via Bloomberg TV:
> >Follow Noah Rothman (@NoahCRothman) on Twitter
Have a tip we should know? tips@mediaite.com