Trevor Noah Hilariously Breaks Down 'Awkward Threesome' of Trump, Pelosi, Schumer (and Pence): 'An Absolute Mess'
On The Daily Show on Tuesday, Trevor Noah did a long and hilarious bit about the meeting that took place earlier in the day between President Donald Trump, Rep. Nancy Pelosi (D-CA) and Sen. Chuck Schumer (D-NY), which he called an "absolute mess."
"Trump is demanding $5 billion for a border wall. And as you can imagine, Democrats would rather release Obama's original Kenyan birth certificate than give Trump that wall money," he said. "Which is why this meeting turned into an absolute mess."
He showed clips of the contentious clashes from the meeting, the three shouting at each other, with the montage ending on the moment Schumer turned to the press and said "when the President brags that he won North Dakota and Indiana, he is in trouble." Noah cracked up when the camera cut back to him.
"Okay. Okay. Why does Chuck Schumer keep talking to the camera?" he said. "They're having an argument and he's like a character in an episode of The Office."
"But honestly, watching these three go at it for twenty minutes, it felt like being in the TV room of the nursing room," he said. "Just old people fighting."
Then he turned to Vice President Mike Pence. "My favorite part of this awkward threesome, was Mike Pence, because you might not have even noticed him," he said. "Because he didn't say a word the entire time. He just sat there motionless, like a guy whose edibles just kicked in."
He said you have to wonder what was going through Pence's head. "He was probably just daydreaming about, I don't know, whatever it is Mike Pence daydreams about."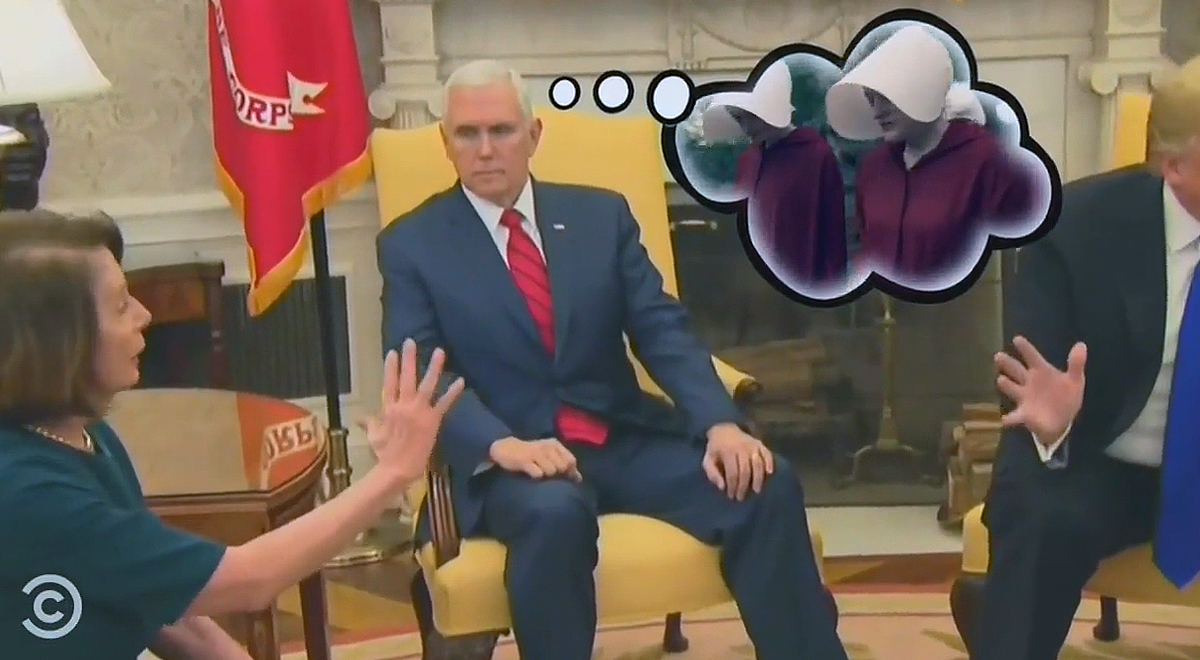 He also said Trump is the only politician who would want to be named responsible for a government shutdown. "I don't know if you realize how monumental this moment is," he said. "Donald Trump just agreed to take blame for something. This is the same guy who keeps Pence around just to blame farts on."
He concluded by saying that Trump probably wants the government shut down because he thinks "no one will be around to impeach him."
Watch the clip above, courtesy of Comedy Central.
[Featured image via screengrab]
—
Follow Caleb Howe (@CalebHowe) on Twitter
Have a tip we should know? tips@mediaite.com