Trey Gowdy Grills Hillary Clinton on 'Unsoliticted' Sidney Blumenthal Emails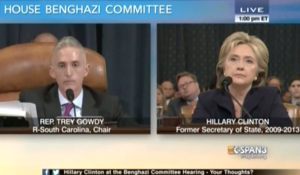 Republican Chairman of the House Select Committee on Benghazi Trey Gowdy grilled former Secretary of State Hillary Clinton about her frequent emails with Sidney Blumenthal, a controversial Clinton ally the Obama White House forbade her to hire.
Clinton said previously that the emails from Blumenthal were "unsolicited." When asked to explain what that meant, she testified, "It means that I did not ask him to send me the information he send me. As I previously stated, some of it I found interesting, some of it I did not. Some of it I forwarded, some of it I did not."
But Gowdy noted that several times in her emails, Clinton seemed to solicit his advice. "You wrote to him, 'Another keeper, thanks and keep them coming,'" he began listing. "'Greetings from Kabul, and thanks for keeping this stuff coming.' 'Any other info about it?' What are you hearing about it now?'"
"They started out as unsolicited," Clinton responded. "And as I said, some of them were of interest, I passed them along, and some were not."
"You didn't say they started off unsolicited. You said they were unsolicited," Gowdy pressed.
"Well, they were unsolicited," she responded. "But obviously I did respond to some, and I'm sure that encouraged him."
Gowdy again listed a completely different litany of questions in which Clinton appeared to be soliciting information. "If you're the one asking him for information, how does that square with the definition of 'unsolicited'?" he asked.
"I said it began that way," Clinton said.
But the conversation shifted again when Clinton admitted she didn't know where Blumenthal was getting his intelligence from. "Did you ask?" Gowdy said. "'You're sending me very specific detailed intelligence. What is your source?' That seems to me like a pretty good question."
Clinton responded that she didn't ask, but did learn later that they were former American intelligence officers. When Gowdy asked if she knew who those officers were, she responded she did not.
[Image via screengrab]
——
>>Follow Alex Griswold (@HashtagGriswold) on Twitter
Have a tip we should know? tips@mediaite.com