'Triple Check': CNN's Stelter Urges Viewers Not To Share Articles From Hoax Sites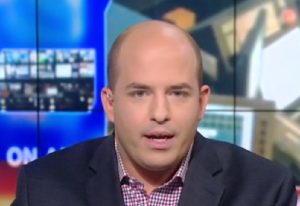 During today's broadcast of CNN's Reliable Sources, host Brian Stelter delivered an essay urging viewers not to share any articles from hoax news websites or hyper-partisan sites that provide only positive information about their candidates without context.
Essentially, Stelter wanted to make the point that social media users should "triple check before you share" any article to make sure that what is getting sent out is factual.
Highlighting the time Donald Trump's son Eric tweeted out a fake news story that claimed a protester was paid $3,500 to demonstrate at one of Trump's rallies, Stelter talked about how there are three types of "clickbait" websites out there with the sole purpose of getting their articles shared on social media.
He expressed sympathy for Eric Trump and Kellyanne Conway, who also shared the story, stating that this happens to everyone as these websites utilize accepted narratives to fool readers into making them go viral. Stelter then provided the three "buckets" that the sites fall in — hoax sites with fake news, hyper-partisan sites with misleading info, and "hybrids" with a mix of fact and fiction.
"Triple check before you share." https://t.co/KRF1mMpGIl

— Reliable Sources (@ReliableSources) October 30, 2016
Regarding the hybrids, the CNN host provided an example of an article claiming Hillary Clinton wanted Donald Trump to run for POTUS in 2013, providing a quote. However, she never said anything of the sort about the real estate mogul, but did say that more business people should run for office.
He compared this to a spiderweb where you have the initial lie in the middle and it then feeds into a whole slew of other sites trying to grab a hold of that attention on Facebook.
He ended by stating that this is something we all have to reckon with, because these sites exist due to them being profitable. So, in essence, all users of social media need to pay more mind before blindly sharing clickbait articles that may not be true.
Watch the essay above, via CNN.
[image via screengrab]
–
Follow Justin Baragona on Twitter: @justinbaragona
Have a tip we should know? tips@mediaite.com