Triumph And Jack McBrayer Have An Insane Insult-Off With The Staff Of Chicago's Weiners Circle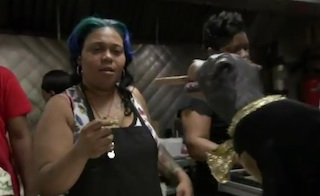 They say that one of the keys to great writing is taking well-defined characters and finding the perfect situations to challenge them. If that's the case, then this clip from last night's Conan should be required viewing in schools for the next few decades. Basically, while Conan O'Brien was filming a week of shows in Chicago, he sent Jack McBrayer (the nicest guy in the world) and Robert Smigel's Triumph (the meanest dog in the world) to the Windy City's infamous Weiners Circle and, hoo boy, is it amazing.
For those of you that don't know, the Weiners Circle is an infamous hot dog stand where the staff screams incredibly vulgar insults at the customers and the customers scream their own right back. Personally, I prefer to have my fights with the friends and family I love (that's when the insults hurt the most), but, apparently, this stranger-abuse is popular to become a Chicago landmark.
First, Conan sent McBrayer by himself and, unsurprisingly, he gets ripped on mercilessly. For instance, two employees have a lengthy argument over who the 30 Rock star looks like more; Little Orphan Annie or "Barbie's f**cking boyfriend." After a few minutes, a shaken McBrayer storms off, vowing to return with "a friend" and that the staff will be sorry. That he does and that they are. Long live Triumph the Insult Comic Dog.
The whole thing is pretty incredible. For anyone who's a fan of creative profanity (as I most definitely am), is sure to get a kick out of it.
Watch the segment from TBS below:
Have a tip we should know? tips@mediaite.com