Troll Derails HLN Segment on Edward Snowden, Defends Edward Scissorhands Instead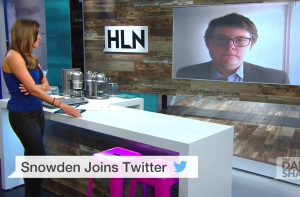 An "Edward Snowden defender" invited on HLN's The Daily Share turned out to actually be a massive troll, who opted instead to defend Edward Scissorhands.
Jon Hendren started out subtle. "He's a hero. He's doing what any one of us should have done in that situation. He's got a voice. He's been isolated for so long. He's got valid things to say, we should listen to what he says."
But when asked about how Snowden's leaks may have endangered lives, he started making the joke more obvious. "I think to cast him out, to make him invalid in society, simply because he has scissors for hands? I mean, that's so strange. Because people didn't get scared until he started sculpting shrubs into dinosaur shapes and what not."
But in true Krystal Ball fashion, host Yasmin Vossoughian simply continued asking questions. So Hendren laid in on a bit thicker: "Yeah, casting him out is just completely wrong. We're treating him like an animal, like somebody who should be quarantined and put away. Just because he was made on the top of a mountain by Vincent Price, incomplete with scissors for hands and no heart."
"Edward Scissorhands is a complete hero to me," he finally said.
"But what about the choice he made to live in a country like Russia?" a still oblivious Vossoughian asked.
"I mean, where else is he going to do? We cast him out. Like, we got scared when he poked a hole in a waterbed with his scissor finger. That was just unreasonable of us."
Watch above, via HLN.
[h/t Gawker]
[Image via screengrab]
——
>>Follow Alex Griswold (@HashtagGriswold) on Twitter
Have a tip we should know? tips@mediaite.com