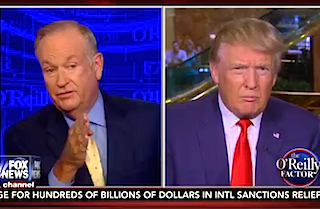 Donald Trump made his big return to Fox News after a rare two-week absence Tuesday night with an interview at the top of The O'Reilly Factor.
Host Bill O'Reilly began with the Syrian migrant crisis. Asked if he would allow Syrian refugees to enter the United States, Trump replied, "I hate the concept of it, but on a humanitarian basis of what's happening, you have to." The GOP frontrunner then pivoted to blame President Barack Obama's foreign policy for the entire situation.
Next up was Kim Davis, the Kentucky clerk who was released from jail today following her refusal to issue marriage licenses to same-sex couples. "It was too bad that she had to be put in jail and I'm a very, very strong believer in Christianity and religion," Trump said, "but I will say that this was not the right job for her."
Moving on to one of O'Reilly's favorite topics, the Black Lives Matter movement, Trump was quick to declare, "All lives matter." This gave O'Reilly the chance to confront Trump about his stance on abortion. If "all lives matter," then the host wanted to know why Trump has opposed cutting off funding to Planned Parenthood.
"I'm not supporting Planned Parenthood," Trump stated. "Somebody said I was supporting Planned Parenthood." He insisted that he would cut off government funding for the women's health organization, adding, "I don't know where you got this information, I never said that."
"You read a wrong report, Bill. You have bad researchers, what can I tell," he continued. "A lot of people say it's an abortion clinic. I'm opposed to that. And I wouldn't do any funding as long as they are performing abortions. And they are performing abortions. So I would be opposed to funding — I would be totally opposed to funding."
It was just a few weeks ago, on Fox News' Hannity, that Trump said abortion is only a "fairly small part of what they do" and stressed that "we have to look at the positive also for Planned Parenthood." In response, the organization put out a statement that praised Trump for rejecting the "extreme positions" held by other members of the Republican Party.
Watch video below, via Fox News:
UPDATE – 9/10, 1:56 pm EST: O'Reilly responded to Trump telling him he got wrong information on The Factor last night. Watch here, via Fox:
[Photo via screengrab]
— —
>> Follow Matt Wilstein (@TheMattWilstein) on Twitter
Have a tip we should know? tips@mediaite.com