Trump Announces Who Will Lead His White House Transition Team. Presumptuous!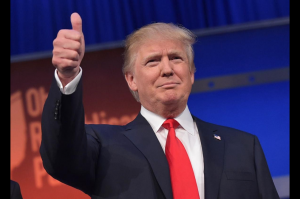 The day after winning the general election in 2008, then-Senator Barack Obama came out and formally announced many of the key individuals who would be responsible for transitioning his team into the White House. It's a process meant to ease the switch from one administration to another, and the announcement of the people involved typically comes once a candidate becomes President-elect.
But talk of "what usually happens" doesn't really seem to apply to Donald Trump, does it?
Instead, the real estate mogul decided on Monday to make his first big transition announcement for his (I guess?) inevitable victory over the Democrats in December. And in the new Trump administration, one only man is deemed capable of serving as the Transition Team Chairman: New Jersey Governor Chris Christie.
According to the press release from the Trump campaign, "Governor Christie is an extremely knowledgeable and loyal person with the tools and resources to put together an unparalleled Transition Team, one that will be prepared to take over the White House when we win in November. I am grateful to Governor Christie for his contributions to this movement."
Christie enthusiastically endorsed Trump on February 26th, just days after ending his own bid for the Republican party nomination. Christie said of his endorsement, "The best person to beat Hillary Clinton is undoubtedly Donald Trump."
In the official press statement about the move, Christie said in response, "I am honored by the confidence being placed in me by Mr. Trump and look forward to putting together a first rate team to assemble an administration to help best serve the President-elect and the nation."
The statement concludes:
Mr. Trump has begun shifting towards a general election strategy and implementing an infrastructure capable of securing a victory including making key hires, building a finance operation to benefit the Republican Party and unifying the party by working with several Republican leaders now voicing their support for Mr. Trump and his candidacy.
According to NBC News, "Christie's team will conduct a search for candidates to fill top cabinet level positions and the roughly one thousand executive branch job openings that require Senate confirmation… Under the law, a presidential transition team is a separate organization from the campaign."
While many have long figured that the vocal Christie would serve in some capacity for the Trump administration — Bloomberg's Mark Halperin pegged him as the favorite for Trump's VP just last week — the move to Transition Team Chairman was unexpected. It is unlikely, then, that Christie is still on the short list for Vice President, seeing as how his responsibilities in the Fall would be geared towards ensuring a smooth transition for Trump and his team into 1600 Pennsylvania Avenue.
What will the interview process look like with Christie under center? Well, if a candidate is hoping to land a job in the Trump cabinet, he/she can probably expect to be forced to sing sixteen bars of Born To Run. Another portion of the test may include, "In how many languages can you say the phrase 'Hillary Clinton criminal'?". Only time will tell how Christie handles his new responsibilities, but one thing is clear: the interview rooms better have bagged — not boxed — M&Ms for the Governor to focus properly on the task at hand.
—
J.D. Durkin (@jiveDurkey) is an editorial producer and columnist at Mediaite.
[image via Flickr]
Have a tip we should know? tips@mediaite.com