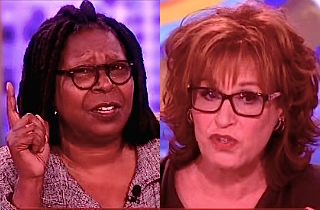 Donald Trump made the mistake of calling into The View on Thursday morning and had some trouble getting a word in edgewise as Whoopi Goldberg, Joy Behar and the rest of the show's co-hosts berated him on issues like immigration and women's health.
"Your stance on immigration is a little testy for folks," Goldberg told Trump, pointing out that his own wife is an immigrant to the United States. "Not all Mexican immigrants are murderers and rapists, I just want to straighten that up," she added, before asking him how he plans to track down and deport 11 million undocumented.
From there, Behar took over, listing some of Trump's more liberal positions and asking him, "Are you a Democrat at heart?"
"I used to be a Democrat," Trump admitted, but like Ronald Reagan, he switched parties. "And now I'm a Republican, a conservative Republican, but with a very big heart."
Asked by Michelle Collins what he message to women is, Trump replied, "I want to say that I will cherish women and I will protect women and I will take care of women and I have great respect for women." Despite the fact that Planned Parenthood does not receive federal funding for the abortion services it provides, Trump said he would be in favor of defunding the organization based on that practice.
"The thing that we want you to do as we go into the rest of this run," Goldberg said, "is you've got to get a bit more informed in what's going on in women's issues." When Trump insisted he is "very well informed" in that department, Goldberg shot back, "No, baby, I swear to you, Donald, you're misinformed here."
Watch the full segment below, via ABC:
[Photo via screengrab]
— —
>> Follow Matt Wilstein (@TheMattWilstein) on Twitter
Have a tip we should know? tips@mediaite.com