Trump Campaign Manager Refuses to Speak on the Record on MSNBC: 'Call Me Later'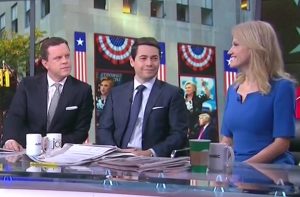 When the host of MSNBC's Morning Joe pressed Donald Trump campaign manager Kellyanne Conway Thursday about the candidate attacking NBC News reporter Katy Tur by name during a rally, Conway somewhat awkwardly refused to talk about the issue, saying she would discuss it later off-camera.
"He obviously didn't mean it in any malicious way," Conway said. "I have spoken to NBC News about that issue. And I'll leave it there."
"Could you shed any light on it?" Willie Geist asked.
"No. Sorry," Conway laughed.
"Wow," said Mika Brzezinski.
"You can call me later," Conway said pointing at Brzezinski, prompting an awkward silence.
"What's– why can't we talk about it on TV?" asked a confused Geist.
Conway again declined to discuss the issue, saying she would only talk about the media in general. "Willie, people are so tired of being told what to think, how to act, what to do," she said.
"How does that connect with Katy Tur, though?" asked Brzezinski.
"It connects with the media generally…" Conway began.
"I've never seen in her reporting her ever telling anyone what to think. Never once," Brzezinski continued.
"This is not about Katy. I'm extrapolating on one of his major compelling and successful messaging points throughout this whole campaign which is don't let the establishment define you and tell you," Conway replied.
Finally Geist asked her directly whether she believed Trump was wrong to attack Tur. "I prefer when he talks about institutions generally," she said. "I had an exchange with Katy last night, I've been in touch with NBC News."
Watch above, via MSNBC.
[Image via screengrab]
—
>>Follow Alex Griswold (@HashtagGriswold) on Twitter
Have a tip we should know? tips@mediaite.com