Trump Campaign Sends Email Linking to InfoWars Article Touting Support for Paris Accord Withdrawal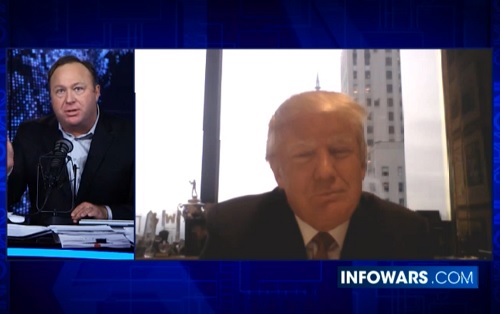 After President Donald Trump announced the United States was pulling out of the Paris Climate Agreement, the Trump campaign — yes, there's a campaign in place already — called for a "Pittsburgh Not Paris Event for President Trump" in Washington, naming it after Trump's most notable line in his speech.
With supporters gathering near the White House today for the rally, the Trump campaign decided to blast an email out touting the event, complete with pictures. And a link — to InfoWars. Yes, InfoWars.
Trump campaign just blasted out an email that contains a link to InfoWars pic.twitter.com/yCcJAqMLAf

— Bradd Jaffy (@BraddJaffy) June 3, 2017
The article that the campaign linked to boasted that the event had more attendees than those protesting Trump's decision. Of course, one would argue that the Pittsburgh Not Paris rally is a planned event. Another thing to note is that there is an anti-Trump march occurring in DC and at least 100 other cities today — The March for Truth.
The InfoWars piece also includes a featured image with an attendee holding up a sign that reads "CNN is ISIS." The term began to trend on Twitter today due to InfoWars founder Alex Jones offering up cash rewards to anyone who could be seen on TV with a sign or t-shirt reading "CNN is ISIS," with more money to those who also are heard saying InfoWars.com. Jones started the campaign in response to the Kathy Griffin/beheaded Trump photo. (He's also selling t-shirts of her with the head.)
Trump and the White House have taken heat for providing the notorious conspiracy site credibility. During the campaign, Trump appeared on Jones'show and tossed praise at the host. After the election, Jones claimed that Trump called him up personally to thank him and bragged about getting a preview of Trump's address to Congress.
[image via screengrab]
—
Follow Justin Baragona on Twitter: @justinbaragona
Have a tip we should know? tips@mediaite.com