Trump Clashes with Fox Hosts: Media Ignoring 'Racial' Angle of Ferguson Case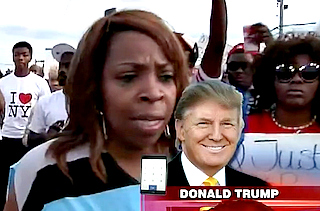 You were almost certainly waiting for Fox News military analyst Donald Trump to weigh in on the events in Ferguson, and on his regular Monday morning Fox & Friends slot your prayers were answered, when Trump thoroughly befuddled the F&F troika by alleging that the media was ignoring the racial angle of the Ferguson case.
"This is a racial situation," Trump said. "It's not covered that way in the press. It's not even discussed in the press. They don't want to discuss it. They stay away from it."
"I don't agree with you," cohost Brian Kilmeade objected. "That's all we're talking about is the race thing. This is not just a shooting."
"In fact, Chicago is another situation," Trump continued. "It's a very racial situation out there. If you look at what's going on here and Chicago and other places, the press really seldom talks about it. You looked at it here; as soon as [Captain Ron Johnson] mentioned his black son [in a speech at the Rally for Michael Brown yesterday], the audience went wild in applauded. That's a very sad situation, very sad for the country."
"People understand it. In my opinion, the press does not really discuss it. They talk about riots, but they don't say what's at the core of the riot. Frankly, it's a very big problem in this country and it's a problem that is not discussed or certainly not discussed in any great detail and it has to be."
"Surely," replied Steve Doocy.
Watch the clip below, via Fox News:
[Image via screengrab]
——
>> Follow Evan McMurry (@evanmcmurry) on Twitter
Have a tip we should know? tips@mediaite.com