Trump Continues to Bash Fox on MSNBC: 'I Don't Think I've Been Treated Fairly'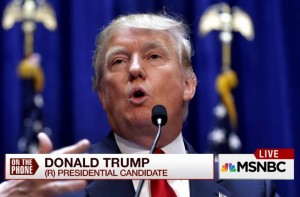 Donald Trump appeared on MSNBC's Morning Joe to continue his tirade against Fox News, who he accused of treating him unfairly.
"What's going on with Fox News?" asked host Joe Scarborough. "You know, you and Roger have been friends for a long time. There was a misunderstanding after the first debate, you guys patched it up. But now you're saying you're not going on Fox News again and they say it's because they won't bow down to your demands. What's the truth there?"
"Well, I don't think I've been treated fairly on Fox News," Trump said. "Now, you know, it's sort an amazing thing because I'm leading every single one of the polls. I guess their poll just came out, I was told I'm leading that poll by a substantial margin."
"In what way are they not treating you treated fairly?" Scarborough pushed. "Your beef seems to be Bill O'Reilly, you and Bill have been friends for a while."
"No, Bill is okay," Trump responded. "I think various things happened. I mean, it has to do with polling too. They don't put up the good polls. They don't put up polls. If I'm leading big in a poll, they don't put it up."
He went on to trash Fox host and contributors Charles Krauthammer, Megyn Kelly, and Rich Lowry. "So you know, I mean, all of them have been so wrong, and the level of hatred and animosity is incredible."
Watch, via MSNBC.
[Image via screengrab]
——
>>Follow Alex Griswold (@HashtagGriswold) on Twitter
Have a tip we should know? tips@mediaite.com