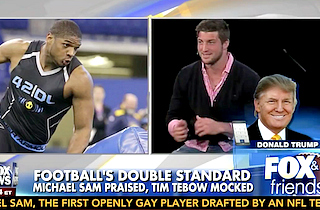 On Fox & Friends Monday morning, weekly guest-head Donald Trump celebrated Michael Sam's selection in the NFL Draft, but called his televised reaction to it "out there," and agreed with the triumvirate of hosts that there existed a double-standard whereby Tim Tebow was heavily criticized but Sam was sacrosanct.

"I guess there must be [a double standard] because Tim Tebow went through hell," Trump said. "They went after him like crazy."
The F&F crew invoked Don Jones, a Dolphins player who was suspended by the team following a Sam-related tweet.
RELATED: Former NFL Player Had Some Things to Say on Twitter About Michael Sam's Kiss
"We've become so politically correct in this country that the country is going to hell," Trump said. "People are afraid to talk. They're afraid to express their own thoughts. I've heard many people — I'm not even speak for myself, but I've heard many people that thought the display after he was chosen was inappropriate. And whether or not it was, I don't know. But it was certainly out there a little bit."
"And I'm very happy that he got chosen," Trump said. "I'm all for it. I think it's great that he got chosen. I hope he does so well. But I thought he was really going at it. I haven't seen anything like that in a while. He was really going at it. Yet when Tebow did his thing, which a lot of people thought was totally fine, he was just criticized so badly. I guess you could say there is a double standard. It's sad."
Watch the clip below, via Fox News:
[Image via screengrab]
——
>> Follow Evan McMurry (@evanmcmurry) on Twitter
Have a tip we should know? [email protected]