Trump Defends Fiorina Complaint That Prompted GOP Debate Audience to Boo Him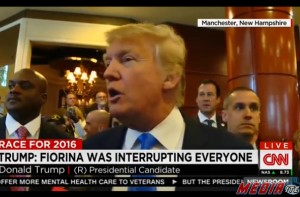 Though he received a chorus of boos for complaining about rival Carly Fiorina during Tuesday's GOP debate, Republican presidential candidate Donald Trump defended his actions, telling reporters, "You have to give other people the chance to talk."
During a fierce exchange on foreign policy among several candidates, Fiorina jumped in to correct Rand Paul, prompting Trump to ask, "Why does she keep interrupting everybody? It's terrible."
The audience initially laughed at the question, before booing the real estate mogul for his outburst. But Trump said Wednesday he was justified in calling Fiorina out for interjecting while other candidates were speaking.
"In the case of Carly, you know she was interrupting a lot of people," Trump said, claiming that four candidates approached him after the debate "and said, 'Thank you so much for what you did with Carly.'"
"I think Carly's a very nice person, I have no problem with Carly," Trump insisted. "But if you remember, I did the exact same thing to [John] Kasich, because he was cutting off Jeb Bush, and I said, 'Let Jeb speak.'"
A reporter asked Trump why he felt the need to "be more conciliatory" toward the other candidates.
Trump said he doesn't "have to be," but added he wants to "show respect" for the people on stage because "it's their time to talk."
The reporter noted Trump's approach is "different from the first few debates."
"Well, maybe I'm learning," Trump quipped.
Watch the video above, via CNN.
[Image via screengrab]
—
>> Follow Elizabeth Preza on Twitter (@lizacisms)
Have a tip we should know? tips@mediaite.com