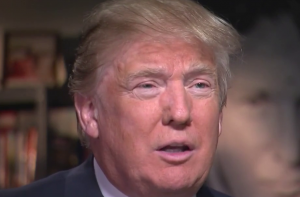 Republican presidential candidate Donald Trump returned to his roots Wednesday morning, suggesting that Ted Cruz's birth in Canada could pose a problem for Republicans if they selected the Texas Senator to be their candidate.
MSNBC host Joe Scarborough began by bringing up attacks on Cruz's eligibility and Trump's history of questioning Barack Obama's birth certificate. "This is something obviously you talked about before with Barack Obama, it's something that I suspect we're going to be hearing more about in the next couple weeks. Is there any validity to those claims?"
"Honestly I hope it's not the case," Trump began. "I hope that's not going to be a problem for him, but I've been hearing a lot about it…"
"It's a problem for him, and it's a problem obviously for the Republicans," he continued. "Let's assume he got a nomination and the Democrats bring suit, the suit takes two to three years to solve. So how do you run?"
"So, it's certainly a concern, I guess, for the party," Trump said. "But I hope that's not the case.  I'm not involved in that, but a lot of people are bringing it up, absolutely."
The notion that one needs to be born in the United States to be president is something of a myth; the Constitution actually requires that candidates be a "natural-born citizen." The overwhelming consensus among legal scholars is that because Cruz was an American citizen from birth, he would be eligible for the presidency.
Watch above, via MSNBC.
[Image via screengrab]
——
>>Follow Alex Griswold (@HashtagGriswold) on Twitter
Have a tip we should know? tips@mediaite.com