Trump Hilariously Cites Absurd Tabloid Criticism of Rafael Cruz: 'He Was With Lee Harvey Oswald!' (UPDATED)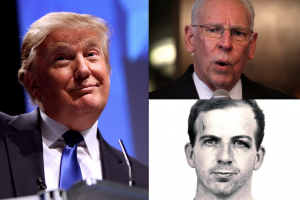 It's no surprise that during Donald Trump's Retweet candidacy here in 2016, there hasn't been a whole lot of fact-checking that has gone on to many of the wild assertions the frontrunner has been making on the stump. Everything — including conjecture, hearsay, and unsubstantiated claims — has been fair game from the lips of the real estate mogul, but this one may take the cake.
During a phone-in interview Tuesday morning with Fox & Friends, aka The Donald Trump Morning Show, the frontrunner who is widely expected to win big on Tuesday in Indiana was asked about Raphael Cruz stumping for Evangelical support for his son. The senior Cruz told a reporter Monday, "I implore, I exhort every member of the body of Christ to vote according to the word of God and vote for the candidate that stands on the word of God and on the Constitution of the United States of America. And I am convinced that man is my son Ted Cruz."
"I think it's a disgrace that [Rafael Cruz is] allowed to do it," Trump responded to Fox unsurprisingly Tuesday morning. "I think it's a disgrace that he's allowed to say it."
What wasn't expected however, was where Trump and his rattlebrain took the conversation next, citing — literally — the National Enquirer for his next talking point. Trump casually offered:
"You know, there's a whole thing and, you know, his father was with Lee Harvey Oswald prior to Oswald's being — you know, shot. I mean, the whole thing is ridiculous. What is this, right prior to his being shot, and nobody brings it up. They don't even talk about that. That was reported and nobody talks about it. But I think it's horrible. I think it's absolutely horrible that a man can go and do that."
"I mean, what was he doing — what was he doing with Lee Harvey Oswald shortly before the death — before the shooting?" Trump continued to the Fox & Friends cohosts.
"Crazy!" said Brian Kilmeade cluelessly before moving on, while Trump was unchallenged by any of the show's hosts on the bonkers claim.
The, uh, let's call it "story" from the Enquirer is below, "citing" a Warren Commission finding following the death of President John Kennedy that Ted Cruz's father was in cahoots with Oswald: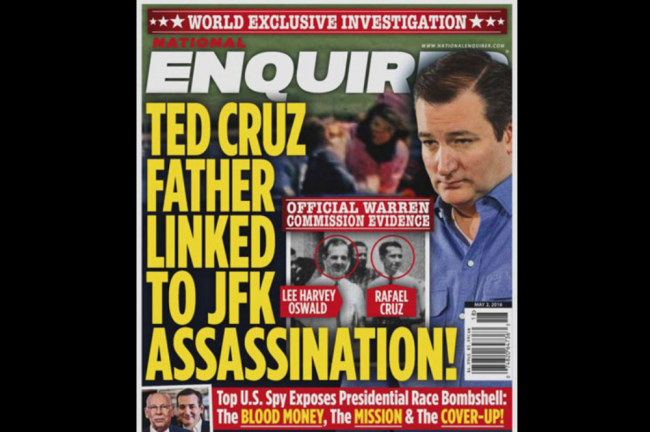 No word yet from the Trump campaign on when he will be weighing in on some of the other more salacious National Enquirer stories, such as, "Michael Douglas' GAY SHOCKER," "Dying Cher's Last Christmas," or "Elvis' 7 Secret Love Children: Found!"
The National Enquirer formally endorsed Donald Trump in March.
UPDATE – 11:22 A.M. EST – Ben Jacobs of The Guardian tweeted out a statement he reportedly received from the Cruz campaign in response to Trump.
The Cruz campaign statement on Trump on Lee Harvey Oswald pic.twitter.com/ECPaJdp1Yd

— Ben Jacobs (@Bencjacobs) May 3, 2016
—
J.D. Durkin (@jiveDurkey) is a columnist at Mediaite
[images via Wikipedia Commons]
Have a tip we should know? [email protected]