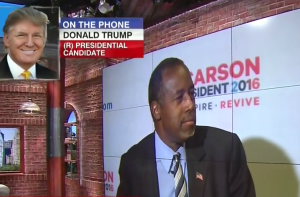 Donald Trump hit back at GOP rival Ben Carson on CNN's New Day after Carson questioned the authenticity of Trump's newly-announced Christian faith.
"He is a man of faith, everybody knows that," host Chris Cuomo began. "It's a cornerstone of his existence and certainly his motivation to run."
"Well I don't know that," Trump responded. "I had not heard that. I have known of Ben Carson for a long time and never heard faith was a big thing until just recently when he started running. So I don't know about Ben Carson's faith."
"He's a Seventh-Day Adventist!" Cuomo protested.
"All of a sudden he becomes the great religious figure. I don't think he's a great religious figure. I saw him yesterday quoting on humility, and it looked like he memorized it two minutes before he made the quote. So don't tell me about Ben Carson," Trump responded.
"Go back to look at his past," he continued. "Go back to look at his views on abortion and see where he stands. You talk about abortion, go back to look at his views on abortion. Now all of a sudden he gets on very low key– frankly, he makes [Jeb Bush] look like the Energizer Bunny.
Trump went on to say Carson was just an "okay doctor" and told Cuomo to look into his record as a surgeon. "He's got a lot of donors, a lot of people pushing him. But Ben Carson, you look at his faith and I think you're not going to find so much."
Watch, via CNN.
[Image via screengrab]
——
>>Follow Alex Griswold (@HashtagGriswold) on Twitter
Have a tip we should know? tips@mediaite.com