Trump: 'I Would Never Mock a Person' for Their Disability, NYT Owes Me Apology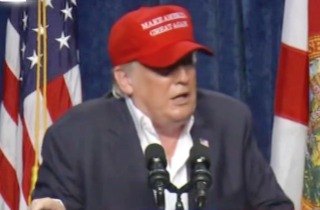 At a campaign rally in Sarasota, Florida today, Donald Trump insisted that he would "never' mock anyone for their disability, let alone a New York Times reporter.
In case you haven't caught up yet, here's the basics: Trump said something untrue about Muslims cheering in New Jersey on 9/11, people called him out on it, Trump decided that one paragraph of a report that in no way backs up what he said actually backs up what he said, the reporter of that story confirmed it does not back up what he said, and Trump responded by mercilessly mocking him.
And based on Trump's movements as he mocked Times reporter Serge Kovaleski, it looked to a lot of people that he was mocking Kovaleski's disability.
But Trump has insisted he did not mock Kovaleski's disability, he was just mocking what a "groveling" reporter would do. And despite the fact that Trump has mocked plenty of reporters on the campaign trail and not done the same to them, he's sticking to his story and adamantly denying he knew Kovaleski.
At the Florida rally today, Trump continued to insist that he was right about cheering Muslims in New Jersey, adding, "Everybody admits worldwide the Muslims were absolutely going wild."
He again said he was trying to show a "groveling" reporter and has no memory of Kovaleski, even though Kovaleski covered him a bunch of times years ago.
He read over a list of recommended terminology about disabled individuals, to audience laughter, and said, "A lot of us don't have time to be politically correct." Trump repeatedly declared that he would "never mock a person" because of their disability.
Also, Trump thinks The New York Times owes him an apology.
And once again, Trump claimed that Kovaleski has been trying to walk back his reporting, which he isn't so much doing as correcting Trump's interpretation of it, but Trump has already made it clear he can't be expected to check every little thing for facts.
Watch above, via Bay News 9.
[image via screengrab]
— —
Follow Josh Feldman on Twitter: @feldmaniac
Have a tip we should know? tips@mediaite.com
Josh Feldman - Senior Editor