Trump Insults Hugh Hewitt When Asked About Tax Returns: 'Very Few People Listen to Your Radio Show'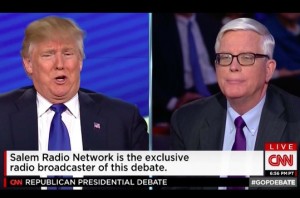 During Thursday night's GOP debate at the University of Houston, conservative radio host and debate co-moderator Hugh Hewitt cornered Donald Trump about the fact that he has often said he would release his tax receipts during a Presidential run. It is an issue that has resurfaced for the Republican frontrunner who has yet to release his records, just a day after Mitt Romney identified a potential "bombshell" hidden in those financial reports of Trump's worth.
Hewitt attempted to point to an interview of his own from last February with Trump where the real estate mogul said he would have "no objection" to releasing the information if he ran for the Presidency.
"A year ago you told me on my radio show — the audio and transcript are out there on YouTube — that you would release your tax returns," offered Hewitt.
At the debate to counter Hewitt's move, Trump preemptively blurted out, "First of all, very few people listen to your radio show. That's the good news. Let me just tell you — which happens to be true. Check out the ratings."
This is not the first time that a Trump-Hewitt interaction has turned sour; in September, the GOP candidate lashed out against Hewitt after a "gotcha" question on The Hugh Hewitt Show (the same one that "very few people listen to") regarding the Iranian Revolutionary Guards. The exchange called into question Trump's readiness on foreign policy, and left the candidate scrambling on the campaign trail for several weeks afterwards.
Watch the above exchange from CNN.
[image via screengrab]
—
J.D. Durkin is the Senior Editor of Mediaite.
Have a tip we should know? tips@mediaite.com