Trump Loves Calling Fox News Hosts. What Happens When His Comms Director Calls the Control Room?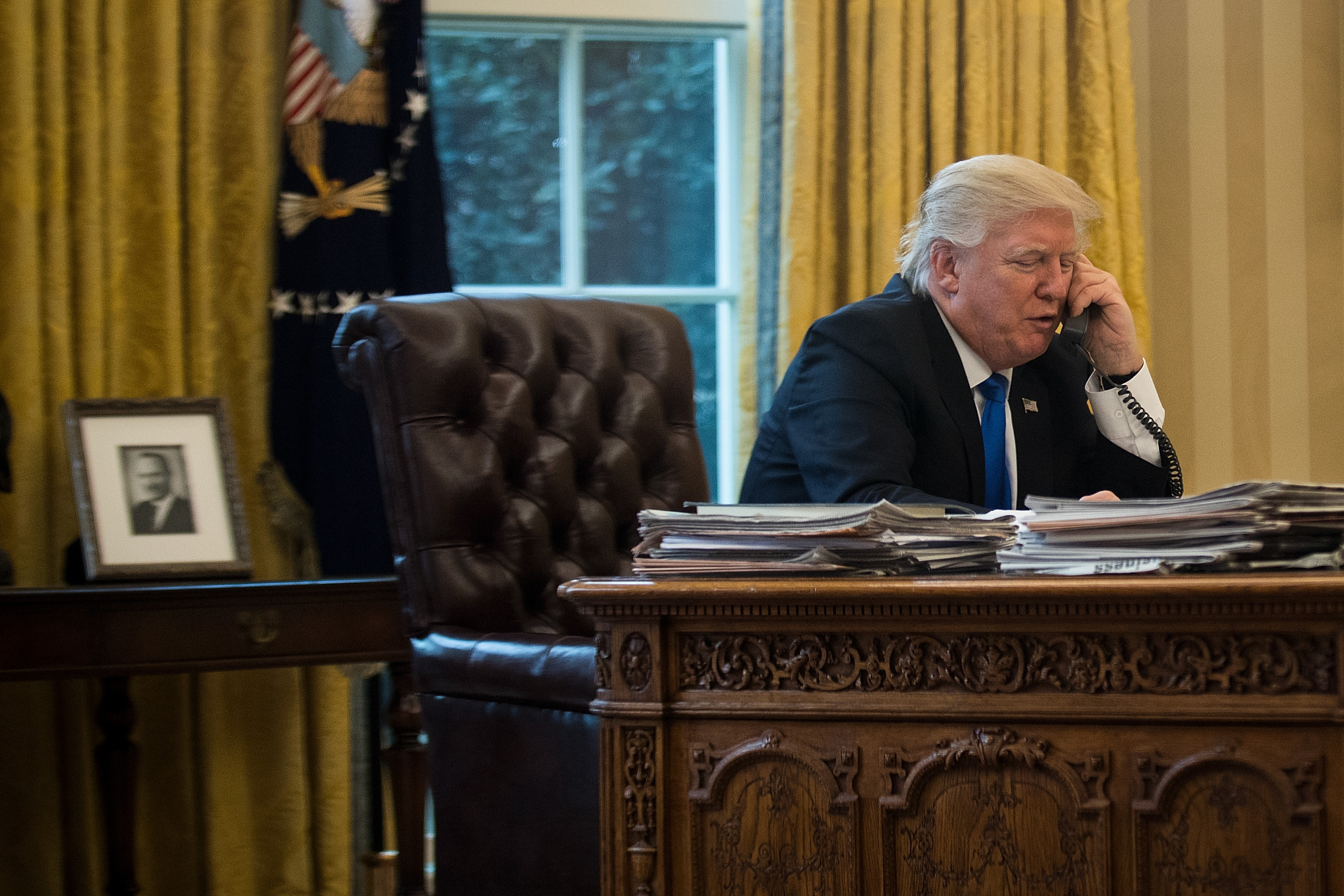 Bill Shine was accustomed to calling into control rooms at Fox News when he served as co-president of the network. Micromanaging shows was a tradition handed down by longtime Fox News boss Roger Ailes, who had a dedicated line in the control room he would to ring regularly, known as the 'red phone.' (The 'red phone' is black.) Ailes used the line to issue directives. "Change the lower third," or "end this segment," he'd bark at show producers.
The 'red phone' tradition died with Ailes. But Mediaite has learned Shine continued to call into Fox News's studios — even after he was ousted from the network and hired by Trump to serve as his communications director.
One incident was recalled by a network source: Shine was just two weeks into his White House tenure in July 2018 when Ivanka Trump appeared on Fox & Friends to tout a jobs initiative. Eager to please the president, Shine called into the control room to ask producers to change their chyrons during the interview to be more favorable to the president's daughter. Lauren Petterson, the executive in charge of morning programming at Fox News, took the phone from a producer and told Shine, "We're good with what we have."
The highly unusual breach of a control room by an administration official irked producers at the network, the source said, but was hardly surprising. The symbiotic relationship between President Donald Trump and his favorite network has led to relaxed correspondence between figures in both worlds, often resulting in moments too close for comfort.
Shine's addition to the White House made him just the latest official to pass through the revolving door between the news network and current administration, a trend facilitated by the president's regular contact with everyone from Fox News executives to on-air talent to lowly producers.
After all, it was at the urging of Sean Hannity — who still speaks with the president via phone constantly — that Shine was snapped up by Trump to serve in his administration. Despite the recommendation, Shine ended up lasting just nine months in the job, leaving abruptly this month to join the president's 2020 campaign. A source close to him said Trump had grown disappointed with his performance — having expected him to have similar talents in the dark arts as Ailes. "Bill is a nice guy, but he's no Roger Ailes," Trump is reported to have said.
Trump still speaks multiple times per week with Rupert Murdoch, the founder of Fox News. Murdoch had been overseeing the network after Ailes's departure, but withdrew from day-to-day operations last year after suffering a severe back injury. Trump seeks advice from Murdoch about political strategy and the two discuss Fox News coverage.
The calls between Murdoch and Trump help to grease the revolving door: Hope Hicks, Trump's comms director before Shine, left the White House only to land a plush gig as chief communications officer at Fox Corporation, Fox News's new parent company. The hiring was a favor from Murdoch to the president, sources said. (A Fox Corp. spokesperson disputed this.)
The president is also in constant communication with his favorite Fox News hosts. They'll text the president during commercial breaks, or receive impromptu calls from him for casual chats. Hannity's late-night calls with Trump have been well-chronicled, and sources said the president keeps in contact with his other favorites as well: Jesse Watters, Jeanine Pirro, Lou Dobbs and even more obscure hosts such as Pete Hegseth. Fox's news anchors, like Maria Bartiromo and Trish Regan also occasionally receive calls from the president.
The calls between 1600 Pennsylvania Avenue and Fox News headquarters in midtown Manhattan have become so commonplace that White House officials have started to talk about them openly. Last week, Trump's top economic adviser Kevin Hassett recalled, during an appearance on Fox Business, the president ringing up Lou Dobbs in the middle of a briefing on the economy.
Trump's communication isn't limited to on-air talent either. Producers have dished about the calls they've received from the president, who offers praise for favorable segments and criticism for the rare show blocks that draw his ire.
Sources at the network said they don't think recent tensions between Fox and Trump will do much to sour the cellular love between the president and his favorite hosts. When Trump snapped at Fox Business anchor Maria Bartiromo during an interview last week — her questioning about his attacks on John McCain prompted the president to deride her as "fake news" — it appeared to some that he was losing his patience with a network that has mostly worked as his mouthpiece for three years.
If Trump is frustrated with Fox News, though, he isn't punishing the network. The president's first media stop after his campaign was cleared of a conspiracy with Russia by Robert Mueller? Hannity, where he appeared for a 40-minute televised phone call Wednesday night.
The interview played like one of Trump and Hannity's private, late-night chats. Immediately after, while taking the baton from Hannity, Laura Ingraham summed up the interview best, likening it to a "confab."
"I felt like I wanted to pull up a little blanket," she said.
[Photo by Drew Angerer/Getty Images]
Have a tip we should know? tips@mediaite.com
Aidan McLaughlin - Editor in Chief