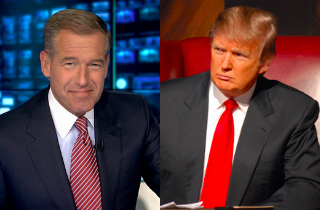 On Monday, NBC took the bold step of "ending its business relationship" with GOP presidential candidate Donald Trump following his "recent derogatory statements." At first Trump appeared to suggest the decision was mutual and said that given their difference of opinion on whether or not Mexican immigrants are "rapists" it only made sense for the partners to sever ties.
But now, in a follow-up statement obtained by Politico, Trump has let his true feeling about the end of his time with the network be known:
"We must have strong borders and not let illegal immigrants enter the United States. As has been stated continuously in the press, people are pouring across our borders unabated. Public reports routinely state great amounts of crime are being committed by illegal immigrants. This must be stopped and it must be stopped now. Long ago I told NBC that I would not being doing The Apprentice because I am running for President in order to Make our Country Great Again.

If NBC is so weak and so foolish to not understand the serious illegal immigration problem in the United States, coupled with the horrendous and unfair trade deals we are making with Mexico, then their contract violating closure of Miss Universe/Miss USA will be determined in court. Furthermore, they will stand behind lying Brian Williams, but won't stand behind people that tell it like it is, as unpleasant as that may be."
So, while Trump says he never planned to continue with The Apprentice as long as he was running for president, he also thinks NBC is "weak" and "foolish" for disagreeing with inflammatory statements in immigrants. And, on top of that, he criticizes the network for keeping Brian Williams on staff — even if it is in a seriously diminished role — while at the same time cutting him loose.
There have also been hints from NBC that it could keep The Apprentice going with someone else in the Trump role. Perhaps if there isn't too much "breaking news" for Williams to cover this fall, he could find himself saying "You're fired" soon.
Watch Trump's earlier comments below, via CNN:
[Photo via screengrab]
— —
>> Follow Matt Wilstein (@TheMattWilstein) on Twitter
Have a tip we should know? tips@mediaite.com