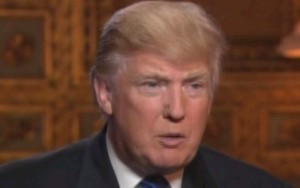 The famously media-shy Donald Trump took time from his busy schedule of not being on TV to sit down for an interview with Face the Nation's Bob Schieffer. And in the interview, Trump admitted he is still considering running for president because he is still very discouraged by the Republican field. In fact, when Schieffer asked him whether he would run as a Republican or an independent, Trump chose the latter.
RELATED: Donald Trump To Fox News: I Have My 'Ducks In A Row' For Third Party Run
Of course, Trump would very much love to be part of the race now, but alas, a new season of The Apprentice is beginning this spring and someone needs to make sure Arsenio Hall and George Takei don't spontaneously engage in fisticuffs! But still, as an American citizen, Trump is not happy with the tone the Republican candidates are taking.
"It's a very nasty race. I've never seen anything like this. It's Republican against Republican. And yet, the level of hatred, I guess you could say, there's no other word for it, is unbelievable. And the question is, are they hurting themselves? Are they hurting the party? Are they hurting the Republicans? And are they hurting their chances of winning an election against Barack Obama? And probably the answer is yes."
However, he did suggest the possibility that by getting all the negative stuff out there now, whoever wins the GOP nomination will be stronger for it because of this contentious battle.
RELATED: Tom Brokaw To Piers Morgan: Trump Got 'Way Too Much Attention'
Watch the clip below, courtesy of CBS:
Have a tip we should know? tips@mediaite.com
Josh Feldman - Senior Editor