Trump Open To Running As Independent If An Electable Republican Doesn't Emerge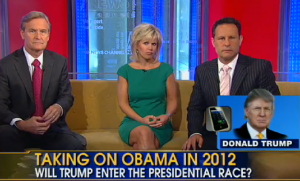 Fresh off his pizza summit with Sarah Palin, Donald Trump returned to Fox & Friends to discuss his conversation with Palin and his thoughts on the Republican candidates for president. Trump said Palin absolutely "loves this country," but they didn't talk about teaming up because Trump is still keeping the door open to the possibility of running as an independent candidate if a great Republican doesn't emerge. Don't worry though, this time Trump's threat can't possibly become a reality until May 2012.
Trump wants everyone to know that his decision not to run for President is not final yet, because "if I'm not happy with what I see, I can very easily change my mind." Although later in the interview he admits, NBC's contract has him locked in at least through next May, so it's not quite that easy. Yet Trump believes since he would be running as an independent candidate, there is no real deadline he needs to follow. He is adamant about wanting to see a Republican win the nomination who can beat Obama, but right now is not impressed with any of the declared candidates. And parting ways with most Republicans, Trump took on Congressman Paul Ryan, labeling his plan a "death wish" and suggesting elected Republicans are not good chess players:
"Whether you agree with [Ryan's] plan or not, his timing was horrendous. What you do is you let Obama come out with a plan and you criticize and do lots of other things."
Trump also had a bone to pick in the media world, unloading on conservative commentator Charles Krauthammer who was often critical of Trump and refused to take him seriously:
"I don't have a lot of respect for [Krauthammer]. I think in many respects he talks tough, but he's actually weak. And I told this to Bill O'Reilly, and . . . Bill O'Reilly I do like and respect."
However, the most startling revelation of all might have been the billionaire's somewhat embarrassed admission at the end that Palin may have been the one to pay for their pizza dinner, since he couldn't remember himself paying for it.
Watch the clip from Fox News below:

Have a tip we should know? tips@mediaite.com