Trump Pitches Himself to CPAC as 'King of Building Walls,' Says Mexico Is New Enemy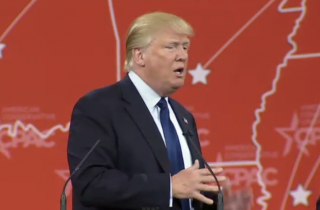 "A lot of people think I'm doing this for fun," Donald Trump opened his 2015 CPAC remarks, attempting to dismiss the long-standing belief that he only ever teases a Republican presidential run out of "trolling" or self-promotion.
The real estate mogul spent much of his pitching himself as the ultimate executive and negotiator. At one point, he repeatedly touted his reputation as the "king of building walls" while declaring that the federal government must build a large wall securing the entirety of the U.S.-Mexico border. On that note, he repeatedly railed against Mexico as being "the new China" and our future economic enemy.
"Mexico is not our friend," he told Sean Hannity during a post-speech Q&A. "I'm not just talking about the border. Mexico is ripping off the United States big league and we have to do something."
When asked for his big agenda items as a hypothetical president, Trump outlined the following: Destroy ISIS, repeal Obamacare, build up the military, and construct a wall on the Mexican border.
He also continued to question President Barack Obama's background, demanding the president release his college transcripts as well as definitively prove his birth certificate is real. America's most famous "birther" lamented how Hillary Clinton and John McCain both allegedly tried and failed to obtain Obama's birth certificate in 2008, but Trump is vilified for, in his belief, following in their footsteps.
Watch the full speech and Q&A below:
— —
>> Follow Andrew Kirell (@AndrewKirell) on Twitter
Have a tip we should know? tips@mediaite.com