Trump: Romney Needs To Be 'Not So Politically Correct … Don't Be Nice To President Obama'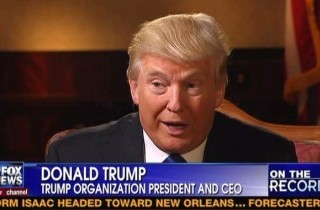 Speaking with Griff Jenkins during a report for Greta Van Susteren on Friday evening, business magnate Donald Trump urged Republican presidential candidate Mitt Romney to "not be so politically correct" and not to be "nice" to President Obama.
Jenkins asked what Romney needs to do at this week's convention in order to convince the 30-million-plus viewers of his merits. "They have to be not be so politically correct," Trump said. "We're a country in tremendous trouble. We have to say it like it is. We don't have to be nice to President Obama. We don't have to say he's a wonderful person, because he's probably not a wonderful person," he explained.
"They have to say it like it is: this country is in trouble, our president has done a poor job. We have to put this country back to work. We have to stop other countries from destroying us — whether it's China, OPEC nations, or virtually any other country we deal with."
On the other hand, Trump said, the GOP candidate is a great person: "Mitt Romney gets it. He's a great businessman. He'll change things. He's also got heart. He's a wonderful person. His wife is a fantastic person. I think it's going to be an amazing combination."
"The country is doing terribly," he added. "We're in deep, deep trouble. Four more years of Obama, we're not going to make it," he concluded. "I'm not sure you can come back if it continues."
Watch below, via Fox News:
— —
>> Follow Andrew Kirell (@AndrewKirell) on Twitter
Have a tip we should know? tips@mediaite.com