Trump Says He Turned Down One-Hour Megyn Kelly Special: 'What's In It For Me?'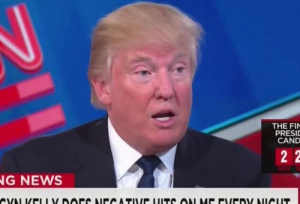 Republican presidential front runner Donald Trump told CNN's Wolf Blitzer that Fox was practically begging him do a one-hour special with Megyn Kelly. Not surprisingly, he says he refused.
Trump and the Fox News host are in bitter battle, mostly fueled by Trump's tweets that take aim at Kelly both professionally and personally. On Friday, Fox came out with a biting statement that criticized "Donald Trump's vitriolic attacks against Megyn Kelly," and also made note of "his extreme, sick obsession with her is beneath the dignity of a presidential candidate who wants to occupy the highest office in the land."
Blitzer asked Trump on Monday afternoon why he keeps attacking Kelly. "She's got the obsession, she's the one that puts me on her show every night," Trump fired back. He also said the following about a supposed one-hour show that the network wanted to air with him:
Roger Ailes wants me so bad, they want to have a primetime special on Fox Network where Megyn Kelly interview me. I said, what's in it for me? What do I get out of that? They are going to get great ratings, what am I going to get out of that?
Fox paints a different picture about what happened, as they told The Hollywood Reporter on Friday. "Of course we would welcome having Trump on the air because we put the public's right to know above all else. Megyn was willing to conduct an interview with him for the broadcast special and we thought Trump would be willing to answer tough, but fair questions — apparently that's not the case," Roger Ailes said in a statement. A Fox rep explained that the executive producer of the special and Megyn Kelly did not have any conversations with Trump about appearing on it.  A source familiar with the conversation said that Ailes spoke with him about an interview for the special. At most, it would have been two segments.
"Many shows get a pop if they put him on. I would submit to you I'm the second highest-rated show in all of cable news and I haven't had Trump on in seven months. It can be done without him," Kelly said on her show last week.
[image via screengrab]
Have a tip we should know? tips@mediaite.com