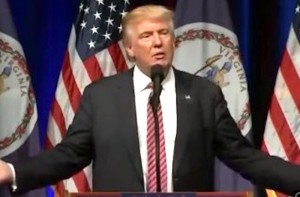 Republican presidential candidate Donald Trump said in a speech Tuesday that as president, he would encourage some manufacturers to leave the United States so he could charge them a tariff when their goods entered the country.
At first, Trump did not stray far from his typical anti-outsourcing rhetoric during his Virginia rally. "We're going to be smart," he said. "When a company moves and wants to move, as an example, to Mexico, we're going to wish them luck. But when they want to sell their product in this country, we're going to say, 'Sorry, but you have a 35% tax to pay to get your product back in.'"
"And here's what's going to happen: for the most part, they're not going to move. I think very few are going to move because you've taken the point out… and if they do move, we're going to make a fortune, okay?"
But then Trump went off-script: "In fact, sometimes you say 'Please move. Please move, we'd like you to send plenty of product in here.'"
The fact that Trump is even acknowledging his desire for large tariffs is a departure from earlier campaign rhetoric. Trump accused The New York Times of lying during a January Fox Business debate after they reported he wanted a 45% tariff on Chinese goods (The Times later produced audio proving he did say he supported a 45% tariff).
Watch above, via NBC News.
[Image via screengrab]
——
>>Follow Alex Griswold (@HashtagGriswold) on Twitter
Have a tip we should know? tips@mediaite.com