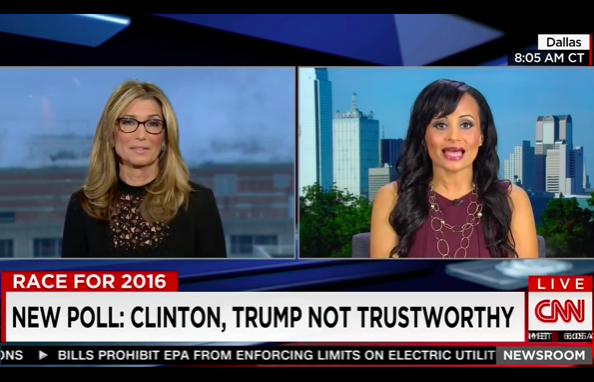 As the media speculation continues surrounding Donald Trump's claims that he supposedly saw "thousands" of Muslim Americans cheering in New Jersey streets, CNN's Carol Costello welcomed Katrina Pierson to discuss the GOP frontrunner's statements. Pierson, who currently serves as the campaign spokeswoman for Trump's candidacy, did not take to CNN's reporting very well; she criticized the network while sitting for her interview live on the air with Costello.
"I would like to do a little fact-check for CNN," Pierson told Costello before the two disagreed over a Tuesday night poll revealing Trump's numbers over Democratic challenger Hillary Clinton. Pierson accused the network of using incorrect data to support their coverage.
After playing back an interview with former NYC Mayor Rudy Giuliani questioning Trump's veracity, Pierson willingly offered the most contentious media point of Trump's recent headlines: that he witnessed thousands of Muslim Americans celebrating in Jersey City on September 11, 2001. "I'd just like to point out," said Pierson, "we have since flipped the script on that topic." She proceeded to argue although "every anchor on CNN" rebuked the claim originally, Trump now has support from those who have since backed up his claim.
"No one remembers seeing thousands and thousands of Muslims celebrating in the United States after 9/11!" Costello shot out.
"You guys changed it to make it out of quantity instead of quality!" responded Pierson, referring to the actual numbers of celebrants. "The media coverage, like I just pointed out, has been not really that fair… Mr. Trump was saying what he saw… All of a sudden the media is focused on the number of people who were there. No one took a head count."
"All I'm saying is, don't say it didn't happen and then accuse Mr. Trump of lying about something that did happen and then not go back and correct the record on what actually happened," concluded Pierson.
Watch the above video from CNN.
[image via screengrab]
—
>> Follow J.D. Durkin on Twitter (@MediaiteJD)
Have a tip we should know? tips@mediaite.com