Trump Spox: By Calling People P*ssy, Trump 'Has Single-Handedly Brought Back Freedom of Speech'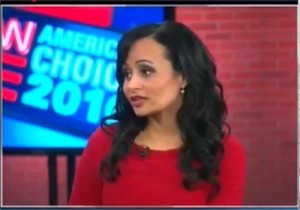 Freedom of speech is under attack. The only thing standing between a free America and a nightmare Orwellian state is Donald Trump, because he has the guts to call another man a "pussy."
This is according to Trump spokeswoman, Katrina Pierson, who told CNN Tuesday morning that — thanks to his bottomless capacity to sling low-blows at rivals — Trump "has single-handedly brought back freedom of speech."
CNN's John Berman specifically invoked the "pussy" remark (a fan's comment that Trump repeated out loud at a rally), and asked Pierson if Trump has ever said anything that was perhaps was less than presidential. She responded:
If we're looking politically at the conditioning of the voters, maybe yes. But, with my personal response: Absolutely not. We have a full-blown assault on the First Amendment. Donald Trump has single-handedly brought back freedom of speech. And yes, he did repeat what a voter said. But, at the same time, this is also the "Live Free or Die" state. This is where your rights are really important to you as an individual. And the fact that Donald Trump is out there saying what he thinks and means is important.
By giving Trump all the credit for bringing freedom of speech back from the brink, Pierson sells herself short. In her steadfast determination to speak and tweet whatever nonsense comes into her head, she has also done a great deal to keep the First Amendment alive.
[image via screengrab]
Have a tip we should know? tips@mediaite.com