Trump Spox Gives Truly Confusing Interview on Muslim Ban: It's Not About All Muslims!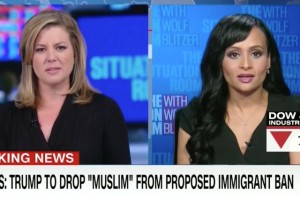 Donald Trump spokeswoman Katrina Pierson appeared on CNN earlier this evening and gave a truly confusing interview attempting to explain the particulars of the Muslim ban policy.
Remember, the first sentence of Trump's announcement months ago featured the phrase "total and complete shutdown of Muslims coming into the United States." But Pierson said the ban was never about all Muslims.
This past weekend, Trump indicated he's changing the ban by saying he wants to only keep out Muslims from terror nations. Pierson insisted to Brianna Keilar, "There has been no change."
But less than a minute later, she said what Trump said this past weekend was him "adding to this policy."
Keilar asked her to clear up exactly who gets to come into the U.S. under the Muslim ban. Pierson said "an individual that cannot be vetted." Keilar asked if that means Muslims who can be vetted can come into the country.
Pierson sort-of indicated that was the case, but it was still a little unclear on the actual specifics. Keilar asked what Trump's proposed vetting process is. Pierson said, "That is a question for the FBI and the CIA, who have told us they do not have a vetting process."
In the second segment, Keilar read to Pierson what the vetting process actually is, while also telling Pierson, "I'm still unclear what countries this includes."
Pierson said Trump would lay out more specifics for this proposal that he somehow both set in stone months ago but is also retooling it for purposes of clarification.
Watch above, via CNN.
[image via screengrab]
— —
Follow Josh Feldman on Twitter: @feldmaniac
Have a tip we should know? tips@mediaite.com
Josh Feldman - Senior Editor