Trump Spox Says She Was 'Absolutely' Wrong But Probably Right to Blame Hillary for Capt. Khan's Death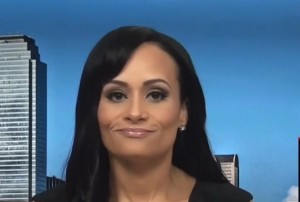 Media alchemist and Donald Trump spokesperson Katrina Pierson sparked a parade of online mockery Tuesday with an appearance on CNN in which she blamed then-State Senator Barack Obama and then-Senator Hillary Clinton for "changing the rules of engagement" that led to the death of Captain Humayun Khan in Iraq 2004, and Pierson returned to the scene of the crime Wednesday morning to make things worse.
In an appearance on CNN's New Day Wednesday morning, anchors Alysin Camerota and Jon Berman confronted Pierson with facts and her own words. Pierson was forced to admit that she was "absolutely" wrong Tuesday, but also that she was "probably" right in other ways:
Jon Berman: Katrina, the words you used, "probably cost his life. President Obama and Hillary Clinton changed the rules of engagement that probably cost his life. You do acknowledge that you were just wrong?

Katrina Pierson: Well, absolutely. That's why I used probably, because I was just going through the timeline. Since then, we have had tens of thousands of soldiers that have been lost. 1 million wounded. $6 trillion later. How can we put the onerous on Donald Trump? It is absolutely absurd. That's why you see all this confusion surrounding this issue. Donald Trump had absolutely nothing to do with it.

Alysin Camerota:  No one was blaming onald trump for captain kahn's death. you were blaming president obama and he wasn't president yet.

Pierson: No, I was talking about Hillary Clinton specifically voting for the war. That was that time period.

Berman: You said "changed the rules of engage that cost his life." That's what you specifically said.
Technically speaking, Pierson was also factually incorrect about the number of soldiers killed or wounded in Iraq, which number around 5,000 and 30,000, respectively. The placement of the "onerous," however, remains a matter of opinion.
Have a tip we should know? tips@mediaite.com