Trump Suggests 'Looking At the Mosques' After Orlando: 'We're Beyond' Not Doing Anything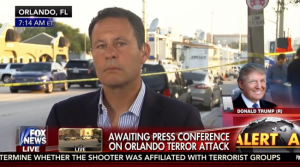 The Orlando shooting has prompted Donald Trump to once again suggest that American security forces need to put mosques under surveillance to prevent future Islamic terror attacks.
Trump told Fox & Friends that people can't let terrorists interfere with their lives, but then he proceed to say that Muslims in the country are just as "sick with hate" as the man who shot up a gay nightclub early on Sunday morning.
"We have to be very strong with our military, with our security," Trump said. "We have to be extremely strong, we have to be very strong in terms of looking at the mosques, which a lot of people say 'oh, we don't want to do that.' We're beyond that."
Trump suggestion is very similar to previous proposals of his for spying on and shutting down mosques after the terror attacks in Paris and San Bernardino. Trump's ideas faced major scrutiny at the time over concerns of religious freedom and acting without determining probable cause of criminal activity.
"Many people, thousands of people already in our country that are sick with hate, and people that are around him, Muslims know who they are," Trump said. "They know who they are, they have to turn them in. They see them like in the case of San Bernardino."
Trump also used the interview to insinuate that President Obama is a closet Muslim who might have sympathy for the killer.
[Image via screengrab]
— —
>> Follow Ken Meyer (@KenMeyer91) on Twitter
Have a tip we should know? tips@mediaite.com