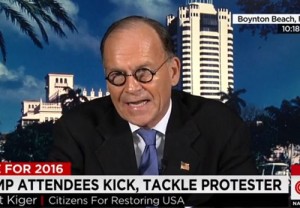 Following the beating of a #BlackLivesMatter protester at Donald Trump's rally in Birmingham, Ala. on Saturday, a Trump supporter told CNN he was tired about the protest movement's publicity.
Robert Kiger of Citizens For Restoring USA, a Super PAC supporting Trump's presidential bid, told Carol Costello that he was "sick and tired of the Black Lives Matter thing" when the CNN anchor asked him about Saturday's incident. In addition, when Kiger opened by saying he hadn't seen any of the video, Costello interrupted, "It was just on!"
Needless to say, the four-and-a-half minute segment went about as well as one would expect.
"I think [Black Lives Matter] is a farce. I think they're just there to disrupt," said Kiger. "If they really care about black lives, they need to pick up a banner and go to the south side of Chicago, where black lives are being slaughtered on a daily basis."
"So they don't have the right to protest at a Trump rally?" Costello asked him.
"No they don't, really," he said. "Look, I wouldn't go into a black church and start screaming 'White Lives Matter.' People are trying to elect a president."
One of the more telling moments came when Costello asked whether Kiger was afraid the congregation in his black church example would beat him up. When he said yes, she brought up Emanuel African Methodist Episcopal Church in Charleston, South Carolina, where nine black churchgoers were shot and killed by Dylann Roof, a white man. Unlike the hypothetical congregation of Kiger's example, the families of Roof's victims forgave him.
However, Kiger didn't understand the awkward question, so Costello said "Never mind, I won't go there."
Check out the clip above, via CNN.
[Image via screengrab]
— —
>> Follow Andrew Husband (@AndrewHusband) on Twitter
Have a tip we should know? tips@mediaite.com