Trump Supporter Hilariously Tries to Defend Lewandowski by Calling Michelle Fields 'Aggressive'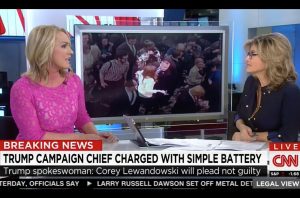 Did you really think that the pro-Trump rhetoric would be anything but defensive in response to news that campaign manager Corey Lewandowski would face battery charges?
Scottie Nell Hughes, an outspoken conservative and Trump supporter fresh off a verbal Biblical beatdown, sparred with Ashleigh Banfield on CNN Tuesday about the case surrounding Lewandowski grabbing Michelle Fields, a former Breitbart reporter who was roughed up by the Trump campaign manager at a Florida event earlier this month. After weeks of back-and-forth allegations and claims of innocence, video eventually surfaced of the incident, and today the Jupiter, Florida police department released surveillance video from the event that would seem to corroborate Fields' claims.
Hughes looked to defuse the situation by veering the emphasis, at first, onto the responsibility of Michelle Fields — who she identified as "a good friend" — noting that the former Breitbart reporter is "aggressive", continuing "she does a great job of getting the story she's going after." But Hughes' entire take was that A) the industry is tough, and to be a reporter on the campaign trail brings with it an inherent level of physical risk, and B) the bruises on Fields' arm pale in comparison to her own, saying "I can show bruises having a six and a seven year old that are worse than that."
"This happens to everybody!" Hughes told the incredulous Banfield, trying to make the argument that the treatment of Fields being bruised up is so commonplace that the whole thing should have been a non-issue. "On the streets of New York! Go down to Times Square right now and you're jostled and you're pushed."
"We expect that from civilians… but we don't expect that from a campaign manager at a political event," countered Banfield.
"It was a pull back! It was probably an accident," Hughes casually tossed out. "[Lewandowski] probably grabbed tighter than he should. He should've apologized — I will definitely admit that — but I think we're making this a huge hoopla out of something…"
"…or maybe he shouldn't have grabbed someone hard like that," said Banfield definitively.
"But is it as big of a deal as we're making it out to be?" Hughes asked.
Finally, as Hughes attempted to further her case by picking apart the surveillance video frame-by-frame (arguing as specifically as elbow angles and sight lines), Banfield settled on, "I think we're gonna have to disagree about that being aggressive."
Watch the above video from CNN.
This is an opinion piece. The views expressed in this article are those of just the author.