Trump Supporter: It Doesn't Matter What Trump Says About Women Because 'Women Are Smarter than That'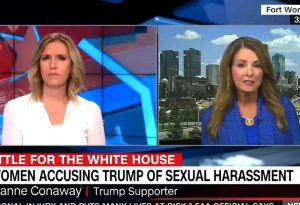 With recent polls showing Republican presidential nominee Donald Trump is struggling with women voters in the wake of his Access Hollywood hot mic moment and at least nine women (as of now) accusing him of sexual misconduct, the Trump campaign has dispatched female supporters to vouch for the candidate on cable news.
One of those supporters is Suzanne Conaway, wife of Trump adviser Rep. Mike Conaway (R-TX). Conaway appeared on CNN this afternoon to speak to host Poppy Harlow and give her take on Trump's appeal to female voters.
After noting that a recent Fox News survey showed that nearly half of all women say the Access Hollywood tape is a deal breaker, Harlow wanted to know where Conaway stood. The "Women Stump for Trump" member told the CNN host that she stood with Trump because she was all about the policies and wasn't concerned with the personalities of the candidates.
Harlow followed that up by asking Conaway if the way a candidate talks about women should matter.
"I think women are smarter than that," Conaway insisted. "I don't think that we're giving women enough credit to look past some lewd remarks that somebody might have made to get onto the policies that affect our life in America."
The conversation then veered into the multiple accusations leveled against Trump, to which Conaway said they were "unsubstantiated" and that she fully believed the GOP nominee.
Watch the interview above, via CNN.
[image via screengrab]
–
Follow Justin Baragona on Twitter: @justinbaragona
Have a tip we should know? tips@mediaite.com