Trump Supporter Nearly Derails Discussion by Invoking Panelist's 'Big Boobs'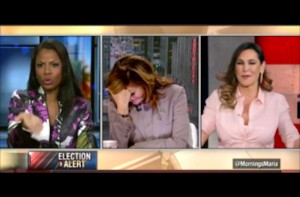 A conversation about Donald Trump on Mornings with Maria Monday nearly went off the rails as Trump supporter and reality TV star Omarosa Manigault offered a retort to Fox contributor Tamara Holder by invoking her "big boobs."
The panel discussion, led by host Maria Bartiromo, turned on Trump's criticism of George W. Bush's handling of the 9/11 attacks and the Iraq War. It all began when one panelist accused Trump of mentioning 9/11 a lot with the aim of politicizing it. Rather than give due consideration to this absolutely unheard-of tactic, the former Apprentice star brought a heavy dose of reality TV drama to the proceedings.
Check out the video below, courtesy of Fox Business, beginning at about 0:50.
Baritromo: Let's face it Ah-marosa, nobody thinks that George W. Bush is at fault —

Manigault: My name is Oh-marosa. Oh-marosa.

Baritromo: Oh-marosa.

Manigault: Yes, so let's talk about Iraq and let's talk about Donald Trump's position. When Ta-mah-ra says that Donald Trump's–

Holder: Tah-mara. It's Tah-mara.

Manigault: It's the same difference. You want to come on with big boobs, then you deal with the pronunciation of your name. Look. Donald Trump stands firm on what his position is about us going into Iraq —

Baritromo: Wait a second! Why are you bringing up Tamara's boobs? I don't understand why you brought up Tamara's boobs.

[crosstalk]

Manigault: She's talking about, "You were a Democrat, and you supported Hillary Clinton." You wanna get personal, we can get personal.

Holder: Wait, how does who you support have to do with the size of my boobs, considering that this is how I was born? I'm sorry I was born with big —

Manigault: I'm sorry, I should have called you a "boob." I should have called you a "boob." But let's focus back on Donald Trump.
Have a tip we should know? tips@mediaite.com