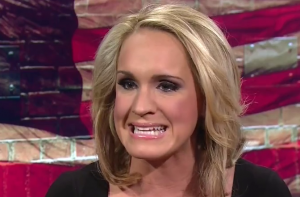 Trump supporter and Tea Party activist Scottie Nell Hughes dismissed the importance of Donald Trump's comments that he would punish women who sought abortions under his administration, saying the question was a "trap" set by Democrats and the "liberal media."
"It's so far outside the mainstream even pro-life thinking, where did he come up with that?" asked CNN New Day host Alisyn Camerota.
"I think you have to look at the context and the situation he was in," Hughes responded. "This is a typical trap that a lot of Democrats, lot of liberal media do when they ask the question [of] a pro-lifer or [of] a conservative. There is no easy answer out of it, because it is a complicated situation and because it's a complex issue."
"I think the fact that Mr. Trump realized immediately after he got off how quickly it was going to be misconstrued and issued the clarification…" she began.
"Hold on, was it misconstrued?" Camerota cut in. "He said women should be punished. He said women, he was clear about it. He said not doctors, women."
Hughes responded that Trump "completely misspoke… I think he realized he misspoke and did not use the right words. That's not what he means."
Fellow conservative Ben Ferguson was having none of that, saying that Trump's answer revealed that his pro-life posturing was a fraud. "Three times yesterday he switched his position on abortion. If you know what you believe, when you are running for the presidency, this is not an 'I got you' liberal question, okay? This is what a president deals with."
"The president does not deal with this," Hughes responded.
Watch above, via CNN.
[Image via screengrab]
——
>>Follow Alex Griswold (@HashtagGriswold) on Twitter
Have a tip we should know? tips@mediaite.com