Trump Supporter Tells MSNBC He Isn't Voting, Brags About His 'Trump That Bitch' Sign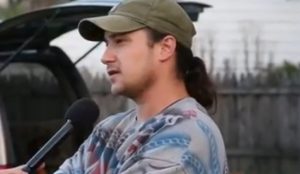 During a running segment on MSNBC called 'Up For Grabs' in which reporter Jacob Soboroff travels to swing states and talks to voters, a Pennsylvania Trump supporter indicated that he wasn't going to vote on November 8th because he feels the system is rigged.
In his travels near Scranton, which is where Vice-President Joe Biden was born and Hillary Clinton's family is from, Soboroff encountered a number of voters who stated that the area appeared to be Trump country. He ran into at least two Jill Stein supporters and one man who said he was only voting for Hillary Clinton because she was the lesser of two evils.
At one point, Soboroff noticed a man with a Trump/Pence sign. Asking him about the sign, the man told the MSNBC reporter that he had a better one at home. When Soboroff asked what it said, the Trump supporter responded with "Trump that bitch." (MSNBC bleeped out the 'bitch' part.)
After telling Soboroff that he likes Donald Trump because he's a good businessman who likes to say things as they are, the man then pointed out that he's likely going to stay home on Election Day.
"Probably not," he answered Soboroff's question on whether he's voting. "I'm not going to vote because the people aren't going to get Trump in."
When asked if it was because he thought it was due to the election being rigged, the man said "definitely."
Soboroff talked about the encounter on air, stating that this is exactly what the Trump campaign doesn't want to happen.
Watch the clip above, via MSNBC.
[image via screengrab]
–
Follow Justin Baragona on Twitter: @justinbaragona
Have a tip we should know? tips@mediaite.com