Trump Supporter to MSNBC: Breitbart Doesn't Support White Nationalism Because Milo is 'Incredibly Gay'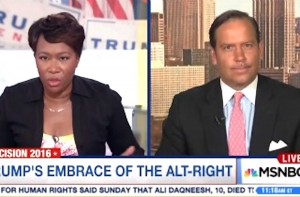 Joy Reid held a panel on Sunday to address Stephen Bannon's hiring by the Donald Trump campaign on Sunday. During the discussion, one of the mogul's supporters gave a really…weird reason for why hiring the chief of Breitbart isn't proof that the Trump movement is becoming increasingly far-right.
Breitbart has been supportive of Trump for many months now, though the site has drawn criticism for effectively adopting far-right and white nationalist positions to advance the mogul's campaign. Trump supporter Steve Cortes was on Reid's panel today, and she asked him about whether the Bannon team-up means that the Trump movement will become even more aligned with the unsavory aspects reflected by the site and it's chief.
Reid brought up examples of Breitbart affiliation with the alternative-right, specifically by noting the antics of their tech editor and prominent provocateur, Milo Yiannopoulos. As part of his defense, Cortes dismissed the alt-right notion by…bringing up Yiannopoulos' homosexuality.
"I wouldn't say they are white nationalists. And Milo, by the way, who you cite, is certainly the most known member of the alt-right, he's very provocative. He's also incredibly gay! And very, very public about it."
Reid was bemused by the response, and she countered "what does being gay have to do with it? You can be gay and racist." Perhaps sensing that the discussion was about to go off the rails, Reid pivoted the discussion back to the conservative criticism of the Bannon-Trump alliance.
Seeing how Yiannopoulos likes to refer to himself as the "dangerous f*ggot," it's possible that he would agree with Cortes's characterization of his sexual preferences.
[Image via screengrab]
— —
>> Follow Ken Meyer (@KenMeyer91) on Twitter
Have a tip we should know? tips@mediaite.com