Trump Supporter's Actual Defense of Tweet Insulting Heidi Cruz's Looks: It Was Satire!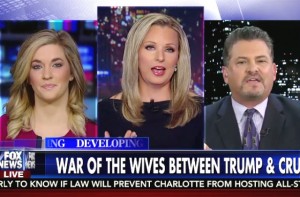 Once again, Donald Trump supporters have this talent for stretching every which way to defend the indefensible, and tonight we reached another such low point on Fox News.
Trump supporter David Wohl defended The Donald tonight amid the fight over candidates' wives. An anti-Trump Super PAC unaffiliated with Cruz released an attack ad featuring Melania Trump from a nude photoshoot. Trump responded by attacking Cruz's wife under the false belief that he was responsible for the ad, leading to Trump's nasty tweet about Heidi Cruz's looks.
But was it? Wohl spun it thusly:
"Donald Trump responded with satire! That was a satirical tweet of his wife next to Heidi Cruz!"
Really? Let's take a look at the tweet in question again:
"@Don_Vito_08: "A picture is worth a thousand words" @realDonaldTrump #LyingTed #NeverCruz @MELANIATRUMP pic.twitter.com/5bvVEwMVF8"

— Donald J. Trump (@realDonaldTrump) March 24, 2016
I fail to see the "satire" in there. The only actual "joke" (if you even want to call it that) is that Melania Trump is more attractive than Heidi Cruz. Where in there exactly is the oh-so-ingenious satire Wohl was speaking of?
Luckily for those of us living on Planet Earth, Katie Pavlich had no patience for any of this BS, saying there's nothing funny about "inappropriate, immature" attacks like that and it's amazing how much Trump supporters will jump through hoops to defend him.
Wohl again insisted that it's a joke, saying, "If you don't have a sense of humor, you shouldn't be in this game."
Pavlich called that kind of excuse-making "straight propaganda" and found it kind of amazing Wohl would frame a man defending his wife from nasty personal attacks as desperate "political mileage."
Watch above, via Fox News.
[image via screengrab]
— —
Follow Josh Feldman on Twitter: @feldmaniac
This is an opinion piece. The views expressed in this article are those of just the author.
Josh Feldman - Senior Editor