Donald Trump To A Baffled Anderson Cooper: 'Someone Told Me The Birth Certificate Is Missing'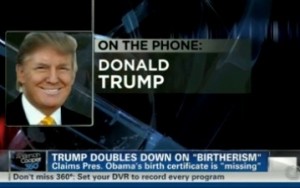 Donald Trump may have only landed on the 2012 presidential radar about two months ago (much to everyone's chagrin), but in those two months he has somehow found what no other birthing sleuth had yet discovered: evidence that President Barack Obama's birth certificate doesn't exist. That's his latest headline-grabbing claim, anyway, in an extensive conversation aired tonight on CNN with Anderson Cooper. Needless to say, the latter is somewhat skeptical.
Yes, it has been only about two months of Trump– our archives place our first "wait, is Donald Trump running for president or something?" headline somewhere in February– though, to be fair, political soothsayer/Pantene model Rod Blagojevich had been hinting at this since sometime around last October. Amazingly, Trump has yet to run out of new things to say about the President's birth certificate– the core issue of his faux platform– upping the ante with every new interview (and there are about seven new interviews a day). On tonight's Anderson Cooper 360º, Trump made a shocking new revelation that absolutely proves there's something fishy about the President's birth certificate: it's missing. "I've been told very recently," he told Cooper, "that the birth certificate is missing. I've been told it's not there and it doesn't exist."
The only problem with this breathtaking scandal, as Cooper quickly realized, is that this claim is completely unfounded. Cooper noted that CNN had sent many people down to Hawaii to check the same thing, and they had encountered a nurse who worked at the hospital and confirmed with Hawaii officials that the certificate exists. "I just heard that a few days ago from somebody," Trump repeated, refused to identify where he got the information "that it's either missing or not there" from. "It's not appropriate," he insisted, noting that it was "too soon" for him to reveal his sources, but that Cooper had to believe him. Cooper, in response, went back to square one, and asked him if he had anyone in Hawaii researching the matter at all. "I told you," a peeved Trump replied, "100% correct– of course I do."
In the second half of the broadcasted portion of the interview, Trump continued to insist that a "certificate of live birth" was not a valid document ("that's not true," Cooper replied somewhat hopelessly at this point), and that President Obama's grandmother had let the cat out of the bag saying he was born in Kenya. He then once again asked why, if Hawaii officials have the certificate, they don't just produce it. "Because they're not allowed to," Cooper replied calmly, noting doctor-patient privacy issues regarding that. After a "yes they can"/"no they can't" back and forth, Trump challenged Cooper not to edit the interview and noted that all the government needed was President Obama's approval.
Cooper announced this was only the first half of an extensive chat with Trump on the birth certificate issue, which means there are all sorts of new the same developments to be revealed tomorrow, for better or worse. For now, here's part one of Cooper trying to make sense of Trump's Hawaiian sleuthing adventure (via CNN):
Have a tip we should know? tips@mediaite.com