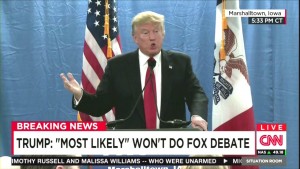 UPDATE 11:09 p.m. ET — Fox News and Donald Trump both released statements Tuesday night clarifying their positions on the matter. You can read the statements in full here.
——
UPDATE 7:14 p.m. ET — Trump's campaign manager confirmed to CNN that he would not attend the debate. Apparently hearing the news live on CNN, Trump spokesperson Katrina Pierson said, "He doesn't have to do the debate," and noted that the campaign could hold another event to air on a rival network.
——
Shortly after Fox News announced the lineup for Thursday night's GOP debate, Donald Trump told reporters Tuesday afternoon that "most likely, I won't be doing the debate." He added that he would make a final decision with the network.
"I didn't like the fact that they sent out press releases, toying, talking about Putin, and playing games. I don't know what games Roger Ailes is playing," Trump said. He also accused the network of sending out "wise-guy press releases."
He was likely referring to a cheeky statement released by a Fox News spokesperson Tuesday, which said:
We learned from a secret back channel that the Ayatollah and Putin both intend to treat Donald Trump unfairly when they meet with him if he becomes president — a nefarious source tells us that Trump has his own secret plan to replace the Cabinet with his Twitter followers to see if he should even go to those meetings.
This comes after the GOP frontrunner expressed his desire to see co-moderator Megyn Kelly barred from the debate, accusing her of not being "fair."
"He is taken back by the bias he has witnessed on Fox News," Trump spokesperson Katrina Pierson told CNN. She added that the "statement coming out of Fox wasn't very newsworthy."
"They can't toy with me like they toy with everybody else," Trump said, claiming that his absence would cost Fox News in the ratings, and threatening to run a simultaneous event in Iowa to raise money for veterans. "Now let's see how many people watch," he told reporters, multiple times.
As Trump blasted Kelly with accusations of bias this week, Fox News stood by their host, mocking Trump for being afraid of Kelly, and telling him that one day he would have to realize that he doesn't get to pick journalists who cover him. Fox News president Roger Ailes released a statement, calling Kelly an "excellent journalist," and indicating that she had the full support of the network behind her.
[image via screengrab]
——
Follow Sam Reisman on Twitter
Have a tip we should know? tips@mediaite.com