Trump: 'The Indians Have Gone Wild' Over Hillary's 'Off the Reservation' Remark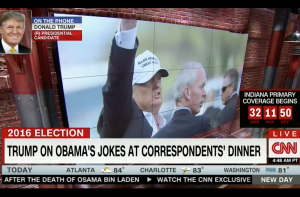 Republican presidential candidate Donald Trump argued on CNN Monday that Hillary Clinton's statement that he had gone "off the reservation" was insulting to Native Americans, while ironically using some slightly offensive language himself.
"She has taken from others a lot of heat having to do with that statement," Trump said, "I think it's a very harsh statement. It's basically, you know, like, 'I can handle men. Don't worry about me. I can handle men.' If somebody said that, if I made that statement about women, there'd be front page headlines."
"I think it's a very demeaning statement…" he continued. "Now, I won't even bring up the fact that the Indians have gone wild on that statement. You know that? The Indians have said that statement is a disastrous statement, and they want a retraction. I'm not going to get into that."
"You just did," pointed out CNN's Chris Cuomo.
"I'm not bringing that up. I'm saying that it has been, big league," insisted Trump.
Trump is correct that a number of Native Americans took to social media to criticize Clinton Saturday, prompting this statement from Clinton national political director Amanda Renteria:
(1/2) About the use of an expression today that has some very offensive roots…Divisive language has no place in our politics.

— Amanda Renteria (@AmandaRenteria) April 30, 2016
(2/2) @HillaryClinton meant no disrespect to Native Americans. She wants this election to be about lifting people up, not tearing them down.

— Amanda Renteria (@AmandaRenteria) April 30, 2016
Watch above, via CNN.
[Image via screengrab]
——
>>Follow Alex Griswold (@HashtagGriswold) on Twitter
Have a tip we should know? tips@mediaite.com